Subscribe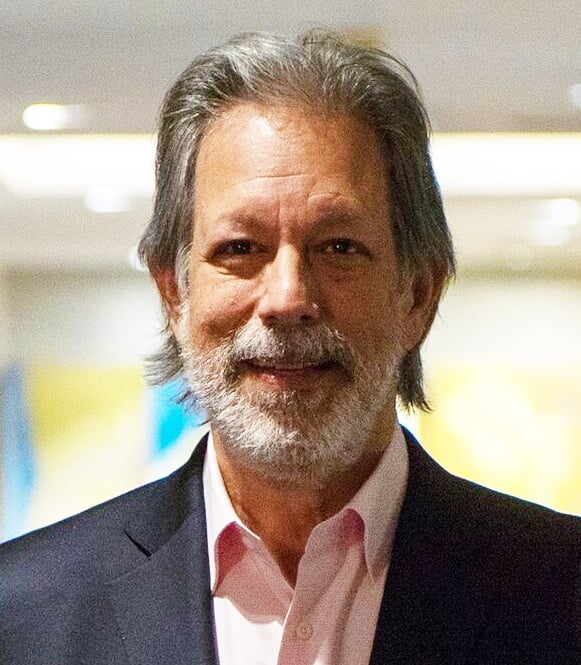 BOB WOODWARD TEACHES INVESTIGATIVE JOURNALISM: NEW ONLINE MASTERCLASS
We are living in a time when the truth is under siege, trust in the media is questioned, and democracy itself is threatened. Against this backdrop, MasterClass, the portal of online learning that lets people learn from the best experts, has just launched what may be its most important online course ever. In it, legendary Washington Post reporter BOB WOODWARD teaches what it takes to get the best obtainable version of the truth using the principles of rigorous and opinion-free investigative journalism.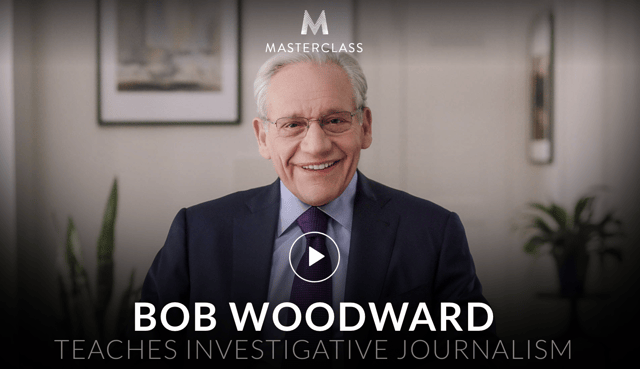 Woodward is the most respected political investigative reporter of our time. In fact, he may well be the most important of all-time. He has personally covered eight U.S. presidents in the 18 bestselling books he's authored. Twelve of his books have reached #1, making him the most successful non-fiction author in modern times.
It was a Saturday morning in June 1972 when Bob Woodward, then a junior reporter, was assigned a story about a routine break-in at the Watergate Hotel. That story turned explosive and led to uncovering criminal acts by President Nixon, who subsequently resigned. The story also launched Bob Woodward's career as a journalist whose conduct in his quest for the best obtainable version of the truth is based in time-honored journalistic traditions at a time when the impatience to publish stories in the internet age has led to questionable results. That's the role of investigative journalism.
Bob Woodward's MasterClass course covers 24 chapters and would be of interest to journalists, aspiring journalists, and non-journalists because, as Woodward puts it, "Everyone is a journalist. We all gather facts, verify them, and then communicate them to others."
What follows is a sampling of quotes from Bob Woodward's MasterClass course. These comments offer a glimpse into the practice of journalism with the highest of ethical standards. And never has the role of journalism been more important – in America and around the world.
For more information on Bob Woodward's MasterClass, please click here.
Bob Woodward on Investigative Reporting
A Crucial Time for Journalism
"Everyone has their own version of the truth, but there are facts."
"The impatience and speed of the internet and our own rush can disable and undermine the most important tool of journalism… that luxury of time to inquire, to pursue, to find the real agents of genuine news: witnesses, participants, documents, to dive into the cab."
"Every time we cover somebody's press conference or report, we're being used. That's fine. Our job is to communicate – but to communicate with skepticism, with inquiry, if there are things that are said that are not true, or things in the report that be contradicted, it's our job to unearth them."
"I think there are some reporters who mistakenly think it's important to demonstrate toughness – I think you can do that without shouting and calling things untrue."
"There's a judge in a case who said 'Democracy dies in darkness.' This is a time we're being tested, let's not kid ourselves. This is the final exam for democracy. It's a very dangerous time. The only answer is better, more authoritative stories."
"People will frequently ask 'What's the thing we should worry about the most?' My answer is secret government."
"The business of journalism is to cross lines."
"The importance of, 'I was there. I saw this. This occurred.' This is why in our legal system we give witnesses great credibility. Journalists have to do the same."
On Being Impartial
"I've been accused of being a Republican. I've been accused of being a Democrat. I've been accused of being a liberal. I've been accused of being a conservative. I really don't have a dog in that flight and I hope people know that, but in a sense, you have to convince them."
"When you have strong reporting, you don't need to infuse the reporting with a bias or add charged language. The reporting really stands on its own feet and it's there on its merit."
On Following the Story in Search of the Truth
"If you are going to practice journalism there are going to be periods of intensity when you are not just going to be working on the story – you're going to be living the story."
"The starting point in journalism is that there are no boundaries. Everyone has their own version of the truth, but there are facts. There is reality. And as a reporter, you can come up with the best obtainable version of the truth."
"Great stories have to do with power; how are people using power…abusing power."
"I've often said and believe in a newspaper all good work is done in defiance of management. That doesn't mean you break the law or the rules. It means you go your own way."
"No one ever gives you the full story. They may not know it themselves. That's why you have to spend time against the problem – go to other people…other documentation…and then go back to that person if you can. So, it's evolutionary – there's not a light that goes off that – oh – this person is not a truth-teller."
"When you're trying to write about people's decisions, it's very important to get at what's the central driver for them."
"Go to the red-hot center of what matters in people's lives; because that's where you find the truth."
On Sources
"The human source is the savior of journalism."
"People want to be sources first of all because people like to talk. I think they want to get their side out. I think everyone is a sharer in the First Amendment, even if they have something to hide."
"The lesson that pulses through all of journalism I think, and vividly in Watergate is go to people…I need your help…I'm trying to get this right…I'm trying to find out the facts…and you will get the kind of assistance that will surprise you."
"It's amazing the number of people who are willing to help. They are not going to call you. You have to recruit them."
"I need your help. Those are the four most potent words in journalism."
"I always say about lots of the sources that really helped me; they were not volunteers. It's amazing the number of people who are willing to help; they are not going to call you - you have to go recruit them."
"The line between friend and source Is a very complicated one. I've always tried to make clear, I'm a reporter, I'm taking notes or the tape recorder is on, but over many months or years, the source can get the feeling, oh well we're friends – he's gonna look out for me. Well, my job is not to look out for somebody – even somebody who's been a good source, other than to protect them."
"Protecting sources is a tricky business. Sometimes you're gonna have to meet in the park, or you're gonna have to go to somebody's house, or you're gonna have to have a phone call with one of those throw-away cell phones that you're gonna have to encrypt but it's important that a reporter take every step necessary to protect sources."
On Interviewing
"The purpose of an interview is not 'gotcha,' – is not to catch; it is to understand and this is the great journalistic ritual of listening. You have to listen."
"Someone in the CIA once told me, 'Let the silence suck out the truth.'"
"When I've interviewed presidents, I've sent them a list of questions in advance – sometimes 20 pages."
"When you're trying to write about somebody you're trying to understand them; you're trying to figure out what's inside; what drives them."
"It's actually fun. The ultimate inquiry. Who is this person? Who is this man? And what drives him? What are the contradictions?"
Building Trust
"So many political figures, so many figures of power have built an apparatus to prevent you from getting inside. You need to realize that and you need to use the methods or time, and persuasion, and building trust."
"Expediting intimacy is central to reporting. You have to be able to talk to somebody - ideally, in person or on the telephone – you want to find out what's really going on."
ABOUT BOB WOODWARD
Former CIA director and Secretary of Defense Robert Gates wished he'd recruited Woodward into the CIA, "He has an extraordinary ability to get otherwise responsible adults to spill [their] guts to him . . . his ability to get people to talk about stuff they shouldn't be talking about is just extraordinary and may be unique." Therein lays the genius of Bob Woodward – a journalistic icon who gained international attention when he and Carl Bernstein broke the deeply disturbing news of the Watergate scandal.
Watergate's theme of secret government is a common thread throughout Woodward's career that has spawned 19 books – all national bestsellers – 13 of them #1 – more than any other contemporary nonfiction author. His 19th book, FEAR: Trump in the White House, sold more than 1.1 million copies in its first week in September 2018 – breaking the 94-year first-week sales record of its publisher Simon & Schuster. As of this date, it's sold more than 2 million copies. No one else in political investigative journalism has the clout, respect, and reputation of Woodward.
As a speaker, Woodward pulls the curtain back on Washington and its leaders to captivate audiences with stories that are sometimes surprising, at times shocking, and always fascinating. He blends stories that are both up to the minute and from the past (to provide historical context). Woodward speaks as he writes – crisp and concise – and helps people get behind the spin to understand what's really going on in the halls of power in an age of 24-hour news, social media, and snarky politics. Professionally, Bob Woodward is currently associate editor for The Washington Post where he's worked since 1971. He has won nearly every American journalism award, and the Post won the 1973 Pulitzer Prize for his work with Carl Bernstein on the Watergate scandal.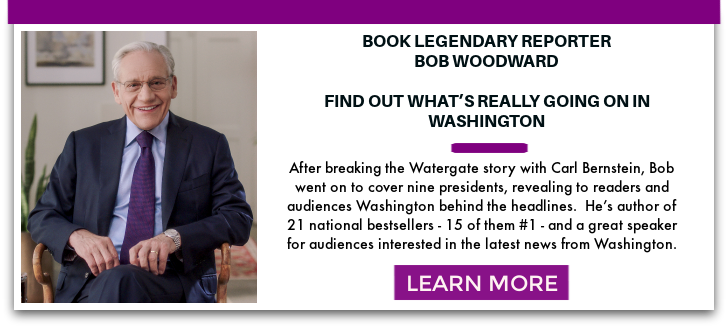 About Tony D'Amelio
Tony has spent his career putting talented people and audiences together, first in the music business and later representing the world's leading speakers. After concluding 27 years as Executive Vice President of the Washington Speakers Bureau, Tony launched D'Amelio Network, a boutique firm that manages the speaking activities of a select group of experts on business, management, politics and current events. Clients include: Mike Abrashoff, Geoff Colvin, Katty Kay, Polly LaBarre, Nicole Malachowski, David Meerman Scott, Bill Taylor, Bill Walton, and Bob Woodward.