HR Focus | Organizational Culture
THE FUTURE OF WORK AT IBM When I read the news about IBM's decision to have most teleworkers return to their offices I knew it was something Fortune magazine's GEOFF COLVIN would be following closely. His last book, Humans are Underrated, focused on where humans fit in and add value in a workplace that is increasingly dominated by robots and smart technology of every sort. What did IBM's move mean for the future of work? Will this organizational transformation really increase effective collaboration in the workplace as IBM hopes? Geoff's concise essay on IBM's decision is below. He will be following it closely and will weigh in down the road with the impact this change makes for the company and the ramifications more broadly in the workplace. What do YOU think? Feel free to comment at the end of this article.

Motivation | Speaking Industry
In my previous life as a speakers' agent for top keynote speakers, I worked with a well-known non-fiction author whose name you would know; someone really well respected. That author did a lot of speaking on the strength of impressive book sales; multiple #1 New York Times bestsellers. The author was a good speaker. I say "good" because rarely was the sponsoring organization disappointed with the speech – but the author never got an emphatic, "That was great!" reaction from the event planner. When I would go to see this author speak, I loved the content but would come away a bit disappointed because the speech was read…word for word…while looking up occasionally.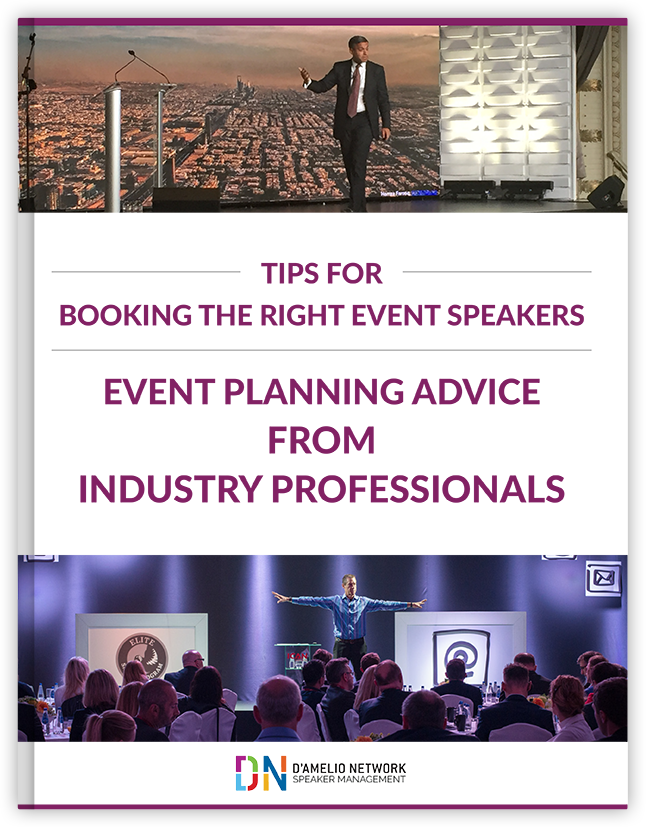 Event Planning Advice from Industry Professionals
Discover the dos and don'ts of booking speakers. Learn best practices for achieving success with speakers with this expert insight.

$2,450 was an awful lot of money in July of 1984. I had just started a new job after moving from Boston to Stamford, Connecticut. I had a bigger mortgage payment on a more expensive place than I had before and was adjusting to the daily commute to NYC for work. Money was flying out the door. The last thing I wanted to do was spend more.

This post originally, written by Katty Kay , originally appeared on LinkedIn Pulse. It was published on April 25th, 2017 as part of series on resilience for Option B by Sheryl Sandberg and Adam Grant.

Motivation | Leadership | Organizational Culture
THE SHIP THAT LAUNCHED A THOUSAND (PLUS) SPEECHES In 1999 Fast Company magazine ran an article that got my attention. It featured a Navy captain who took command of a ship that was near the bottom of the performance rankings in just about every category. Twelve months later – under this new captain - the ship was the best performing ship in the fleet. How did that happen? Everyone wanted to know.

Managing/Leading Change | Organizational Culture
Managing Change in a Disruptive Business Environment The world's most successful companies have one striking similarity: The ability to innovate, adapt, and successfully manage change in a highly disruptive business environment.

International Affairs & Business | Economic Outlook
GEOFF COLVIN from Fortune magazine is always out in front of the economic trends that are driving business change and competition. This link to his piece in the latest issue is a great example - it focuses on the disruption in agriculture that could change food supplies and food costs worldwide. The issue: there's been wave of global consolidation in agriculture that will put roughly 50% of the commercial seed market under the control of a few giant multinationals. ChemChina bought Syngenta, Dow Chemical is buying DuPont, and Germany's Bayer is buying Monsanto. The impact of the changes to the competitive landscape can't be overstated, including the national security considerations. In particular, ChemChina's purchase of Syngenta has made clear that China's food security strategy is being implemented to insulate its huge population against the kinds of food disruptions and famines the country has endured in the past. At the same time the consolidation is being looked at very carefully by global political and economic experts . Here's more:

HR Focus | Speaking Industry | event planners
A career as a speakers' bureau agent After 40+ years as an agent in the speaking industry, I now manage a small group of top experts who speak. In my new life, I work with most speakers' bureaus on a regular basis. They often ask me if I know someone who'd make a great agent. Sometimes I do - but most times I don't.

HR Focus | Motivation | Leadership
Women and Success When it comes to women at work – what matters more, confidence or competence? 
 
The answer is surprising because the latest research shows why confidence is important at work - even more important than actual skills.

HR Focus | Managing/Leading Change | Organizational Culture
MORE THAN ONE WAY TO DO IT We all want to be part of a great organization and a high-performance workplace. But there's more than one kind of successful organization and many kinds of productive workplaces. One of the most important career choices you will make is determining the right workplace environment for you.