Managing/Leading Change | Leadership | Innovation
It was exactly two years ago today that my most recent book made its publishing debut, so Happy Birthday to Simply Brilliant! (Today is also my wife's birthday, but in the interest of marital harmony and self-preservation I will not be releasing a number.) I thought it might be helpful to use the occasion of this Simply Brilliant birthday to highlight five things I've learned and re-learned over the last two years—lessons on strategy, innovation, and leadership that I believe will allow you, your team, and your organization to thrive in a world where ordinary is not an option. So here goes…

Motivation | Managing/Leading Change
THE INDOMITABLE SPIRIT OF NICOLE MALACHOWSKI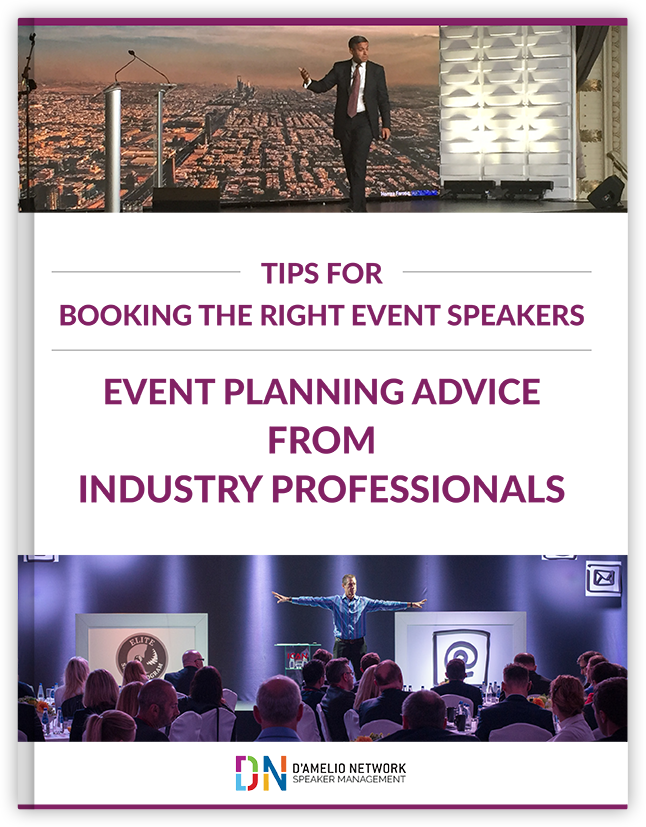 Event Planning Advice from Industry Professionals
Discover the dos and don'ts of booking speakers. Learn best practices for achieving success with speakers with this expert insight.

Managing/Leading Change | Organizational Culture
Imagine this: you've just taken command of the near-worst performing ship in the U.S. Navy. Your job is to try and turn things around - something others before you have tried and failed to do. Where do you start? What's the first thing you'd do? That's was the intriguing question that was posed to MIKE ABRASHOFF during the Q&A session last month. Mike is the former Navy captain who came to the world's attention in a Fast Company magazine cover story. The magazine heard that he'd taken command of a poorly-performing performing ship in the Navy and transformed it in just about a year's time into the best ship in the fleet – using the same crew. That's some organizational transformation and the magazine wanted to know how he did it.

Leadership | Managing/Leading Change
The World's Greatest Leaders list for 2018 has just been announced by Fortune. Five years ago, GEOFF COLVIN (a long-time speaker on business for D'Amelio Network) led the first-ever effort to create Fortune's fresh look at leaders through a different lens. It's not the usual suspects of well-known business and political leaders, but instead, a list that celebrates the passion, commitment, and ingenuity of a surprisingly broad range of those who are making a difference in the world.

Motivation | Managing/Leading Change | Leadership
COL. NICOLE MALACHOWSKI (USAF, RET.) has an indomitable spirit. Determined from the age of five to fly fighter jets, she went on to a distinguished 21-year career in the United States Air Force and became the first woman to be part of the Thunderbirds, the elite USAF air demonstration squadron. The ultimate high-performance-under-pressure team, Nicole and five other Thunderbirds flew at over 400 mph and 300 feet off the ground – separated by as little as 36 inches. Nicole is a rock star in military aviation and was inducted into the Women in Aviation International Pioneer Hall of Fame Museum.

Managing/Leading Change | Leadership
This post, written by Bill Taylor, co-founder of Fast Company magazine and author of the bestselling book Simply Brilliant, is adapted from an essay that first appeared in Harvard Business Review. It was published on December 18th, 2017. The leadership quiz at the end of the article achieved unprecedented interest from HBR readers.

Motivation | Leadership | Organizational Culture | Managing/Leading Change
COL. NICOLE MALACHOWSKI (USAF, RET.), a rock star in military aviation, has just joined the D'Amelio Network which will manage her speaking career.

Leadership | Managing/Leading Change | Organizational Culture
DEVELOPING THE LEADERSHIP PIPELINE I have worked with thousands of executive teams since I left the Navy and one of the common complaints I hear is where to find the time to mentor the next generation. Schedules are double and triple blocked as it is. "I just don't have the energy or the time," is the common refrain.

Organizational Culture | Managing/Leading Change
Most leaders don't need convincing that a focus on transforming organizational culture pays big dividends. What a company is to its customers is inextricably tied to the workplace culture it creates for its own people. Recognizing this direct link between corporate culture and competitiveness & profitability, the topic of culture is popular at business meetings and events. Below I've highlighted advice from five top keynote speakers and seminar leaders who are popular choices for such meetings because their insights help jump-start fresh thinking. Their ideas can help transform your culture to unleash the power of your organization.

Innovation | Managing/Leading Change
"DON'T LET WHAT YOU KNOW LIMIT WHAT YOU CAN IMAGINE" – FAST COMPANY CO-FOUNDER BILL TAYLOR Co-founder of Fast Company magazine Bill Taylor has had a front row seat at the very beginning of a revolution in management and competition driven by technology. While there he watched and profiled the mavericks and rule breakers who have achieved outsize success by taking a different path.