Subscribe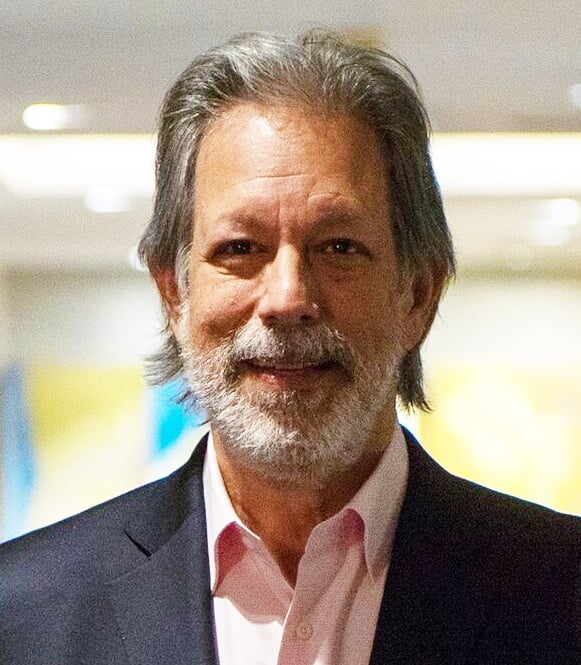 Transform Your Event: Top Panel Moderator Creates Engaging Panel Discussions
TAKE CONTROL OF THE CONTENT/MESSAGE
How can you generate maximum impact from the outside speakers at your next meeting or conference? How can you make sure the speakers' insights are relevant and focused on what matters most to your audience?
In my years helping event planners wrestle with that challenge, I have found there is sometimes no substitute for adding an experienced interviewer, discussion leader, or panel moderator. The difference it can make to the quality of the content delivery can be sizable.
CONVERSATIONS VS. KEYNOTES FOR HIGH-STAKES SPEAKERS
The customary speech with time left at the end for Q&A is fine in some instances. The alternative is to create an interactive from the start by adding an experienced and prepared interviewer.
The truth is that just because someone has something important to say doesn't automatically mean they're a compelling speaker. We've all seen really well-known and respected figures take the stage only to be disappointed. But what's amazing is you can take that very same person and put them in a discussion format with an experienced interviewer and the difference is amazing.
Over my career in working with former U.S. presidents, Federal Reserve chairmen, prime ministers, high ranking government officials, top business authors, actors, and athletes, I've found that the "conversation with…" format is liberating, natural, and fun. The format also works great with company leaders.
If you've hired an experienced interviewer and have briefed them on the issues that matter most to your audience, the conversation that results can be much more focused on getting the most important insights into the minds of the audience. With a conversation vs. a speech, when the speaker makes an interesting point, the interviewer can drill down right away for greater detail, extracting the kind of information that might never have come out in a speech or during Q&A.
MAKING PANEL DISCUSSIONS SHINE
Panel programs are a bit of a wild card – there's a risk of them being uninspiring - or worse. Sometimes panelists drone on, or just don't give enough information to fully explore their points. And sometimes, the panelists get so combative, you need a referee to separate them (be sure to read the Q&A with Fortune magazine's Geoff Colvin at the end of this piece. He had just that experience.).
Creating engaging panel discussions does not happen by accident. Bringing together a diverse group of experts to shine their expertise on important subjects that impact your company or industry is another perfect setting for an experienced panel moderator and discussion leader. It can transform an ordinary panel discussion into something quite special.
Managing the pace of the discussion so things move along briskly…making sure everyone contributes (and no one is overlooked)…drilling down deeper when there more insights to be mined…making certain the points you want to focus on with the panel are the ones the panel spends time on…and, of course, managing the interaction between the audience and the panel members; the top discussion leaders bring experience to your stage that elevates the conversation and the takeaways for the audience.
EXPERIENCE COUNTS: POPULAR PANEL MODERATORS, DISCUSSION LEADERS & INTERVIEWERS FROM D'AMELIO NETWORK
Fortune magazine's GEOFF COLVIN has played the role of moderator and discussion leader at Fortune conferences for over two decades. He's also been a popular addition to major business conferences all over the world, having interviewed the leading figures from business and politics. He focuses on the technological, market, economic, and political forces driving disruption in business. Read Geoff's Q&A below on playing the role of moderator and interviewer. And this link will take you to Geoff's moderating & interviewing preview video.

---

For over 20 years BBC World News America news anchor KATTY KAY has been interviewing political and business leaders from all over the world as part of her role at BBC. When she brings her experience and poise to the live stage, the result is positively captivating. The topics she covers are not only Washington politics and global affairs but also related to her work on women's issues from her books The Confidence Code and Womenomics.
---

Beginning with her early days as founding writer and then editor of the groundbreaking business magazine Fast Company, POLLY LABARRE has been interviewing leaders in business that are reimagining their companies and industries. At live events, Polly focuses on innovation, employee engagement, creating organizational cultures that are fit for the future, and doing the hard work of leading change. She is the co-author of Mavericks at Work.
---
MAKE YOUR EVENT SHINE
WITH TOP PANEL MODERATOR & INTERVIEWER GEOFF COLVIN
---
---
HOW TO MAKE YOUR NEXT LIVE EVENT SPECIAL - Q&A WITH
GEOFF COLVIN OF FORTUNE MAGAZINE
Q: What's the most surprising thing that's happened during a panel discussion/interview?
GC: I was moderating a panel in India when one of my panelists fainted and fell out of his chair onto the floor. We revived him and he was fine; the travel and time zones had simply caught up with him. After moving him safely offstage and establishing to the audience and other panelists that he was okay, we were actually able to continue the session.
Much stranger was a globally televised video conference in which my panelists were Richard Branson, Ted Turner, and Steve Case. Turner sat next to me, and I noticed that on his hand he had written "Richard" and "Steve" – the names of the other panelists. He launched into a slightly off-color rant about rejecting the digital world (as Case sat next to him) and how he wanted to be "with a member of the opposite sex" in the analog world; he went into more detail. Later Branson told a decidedly off-color story about Jane Fonda – who was married to Turner at the time. I prepared for a Jerry Springer moment in which I would have to separate the combatants, but they stayed in their chairs. At that point, I felt that I had to remind them all of the topic for discussion: "Lessons in Leadership."

Great Panel Moderator & Interviewer - Geoff Colvin: Overview Video
Q: How do you prepare?
GC: My guiding principle is "tons of preparation, not too much planning." I do a great deal of reading about the panelists, their businesses, and our topic; I search my own records for relevant research I've done and interviews I've conducted. Many times we do a pre-event conference call to talk about topics and to get the panelists comfortable with one another and with me. But I try to avoid substantive discussion because if we really get into the issues on the call, panelists often "leave it in the locker room" and don't repeat their best insights on stage.
Then I prepare a list of questions – but I know I won't ask the questions in that order. Inevitably the discussion goes in unpredictable directions, and it's vital for me to follow where it goes while keeping it relevant and on-topic. That's what I mean by "not too much planning."
Q: How do you play traffic cop and engage the panel and audience?
GC: My objective is never to play "gotcha." It's always to create a discussion that's interesting and useful for the audience. Keeping that goal in mind is a big help. If the discussion wanders away from "interesting and useful" I can redirect it, which keeps the audience engaged. I keep the panelists engaged by asking them about the big issues they're dealing with, which I have determined ahead of time. I often close the session by asking each panelist for a succinct piece of advice to the audience. Panelists, as well as audiences, really love that.
Q: What is the most common mistake most moderators make?
GC: The most common mistake is not following the discussion where it's going. If a panelist says, "We surveyed our employees about what motivates them and learned some really incredible things," then I don't care what question is next on your list – you'd better ask, "What did you learn?"
Q: Can you have too many people on a panel?
GC: You certainly can, and it's frustrating because most panelists need a bit of time to make their most powerful points. With too many people, none of them may get there.
Q: What's the hardest moderating assignment you've done?
GC: There have been a few, and inevitably they're when one (or more) of the panelists give one-word or minimal answers. I just keep asking open-ended questions, and usually, I can find a topic that gets the person to open up.
GEOFF COLVIN: Moderating Dell World - Big Data Experts Panel

Q: How do you make certain everyone gets heard?
GC: I'm very careful about this. I watch all the panelists closely for body language or facial expressions suggesting they'd like to speak up, and then I call on them. I use my own body language and facial expressions to signal a speaker that it's time to give someone else a turn. Sometimes I'll interrupt a panelist to ask another panelist to comment; through preparation, I know which panelists are good on which topics. My goal is to give everyone nearly equal time.
Q: Do you have a favorite person who you've interviewed?
GC: I've interviewed Jack Welch on stage many times, and it's always a treat. He's always relaxed, candid, and insightful, and he truly loves the give and take of a really substantive discussion.
My most inspiring interview was with Colin Powell and Madeline Albright – retired secretaries of state, one from each party, both absolutely brilliant, and deeply respectful and admiring of one another. If only everyone in Washington could be like them.
Q: Some organizations bring you back year after year to host their conferences: what's the secret to your success?
GC: Beyond doing what I've described, I follow a few other self-imposed rules. First, I am not the star of the show; the panelists and speakers are the stars, and my job is to help make them as effective as they can possibly be. Second, I am there to serve the audience above all. I want them to leave saying this event was absolutely fascinating and it gave them information, insights, and ideas they can put to work when they get home. Third, if I am hosting the whole event, I tie all the elements together. I connect the various sessions, and as the event unfolds, I identify the large themes that emerge; at the end, I explain what made the conference a coherent whole. Audiences find that especially satisfying and valuable and I think that's why I do so many event year after year.
FOR MORE GREAT BLOGS ON SPEAKERS AND THE MEETINGS INDUSTRY CLICK HERE.
About Tony D'Amelio
Tony has spent his career putting talented people and audiences together, first in the music business and later representing the world's leading speakers. After concluding 27 years as Executive Vice President of the Washington Speakers Bureau, Tony launched D'Amelio Network, a boutique firm that manages the speaking activities of a select group of experts on business, management, politics and current events. Clients include: Mike Abrashoff, Vernice "FlyGirl" Armour, Geoff Colvin, Daryl Davis, Ron Insana, Katty Kay, Beau Lotto, Nicole Malachowski, Bill Walton, and Bob Woodward.