Subscribe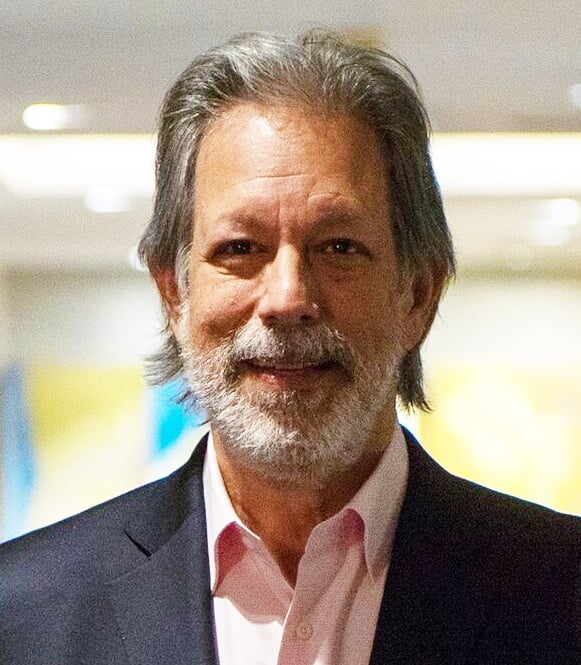 Neuroscientist Beau Lotto Asks: Are You Change-Ready?
"The biggest mistake we can make in uncertain times:
to think we know."

-Beau Lotto
PERCEPTION IS EVERYTHING
The two dots above probably look different to you, right? But what happens when the context changes. Check this out:
Neuroscientist, entrepreneur, and author BEAU LOTTO is a world-renowned specialist in the science of perception. But what's important is he uses brain science to deliver a critical message for leaders and organizations: In a world teeming with change and uncertainty, the biggest obstacle to adapting and thriving is in our own heads. Once we learn how to see the world differently, everything changes.
"Learn to harness doubt – it's your greatest asset in times like these."


-Beau Lotto
PERCEIVE-ADAPT-THRIVE -- GOING FROM A TO B
When faced with change and uncertainty, we usually think about where we are to a better place - going from point A to point B. But the process of going to the better place isn't a direct route. We don't step from point A to point B straightaway. First, we need to go from A to not-A, which sounds easy – but to do successfully means shedding the biases and assumptions that get in the way of seeing new opportunities.
"Nothing interesting begins with knowing…it begins with not knowing."

- Beau Lotto
THE POWER OF HARNESSING PERCEPTION
Just like the two dots, what we believe is based on context. So is the example in the video above - how we perceive the diamond shape above will change which direction it spins. Once again, when the context changes (when COVID upends the world as we know it), if we continue to behave the same way, those behaviors, actions, and thinking may not take us to where we need to go. In a world of tumultuous change – the survival skill is learning to understand the role our perceptions play in undermining our progress towards our goals. The more aware – the better the outcome.
"Change your perceptions and you change the outcome."
-Beau Lotto
ADAPTING TO CHANGE & THRIVING IN UNCERTAINTY
Every leader is looking to create a change-ready organization that can thrive in a wildly unpredictable world. For that to happen, people must have the tools and confidence to start looking at the world differently. The first step is opening minds and showing how our perceptions – our inability to see the two grey dots as the same – happens in every aspect of our life. Our perceptions drive everything we think and do and believe. When looking to solve new problems, it's vital to be able to look with fresh eyes - while doubting our own certainty. Once people understand perception and the certainty trap, possibility expands and everything changes.
"Learning to see the world differently changes everything."


-Beau Lotto
A COMPELLING KICK-OFF SPEAKER
Beau Lotto is a one-of-a-kind speaker who delivers totally unique, visually stunning, interactive, and fun presentations that help people act differently in the face of change. His presentation works as well virtually as it does in person. He's done three TED main stage speeches which puts him in very elite company. His TED talks have over 9,000,000 viewings.
Beau's talks reveal why trading certainty for doubt increases our capacity to adapt, lead, innovate, and thrive in the darkness of "I don't know." His presentation provides a powerful, positive, creative context that sets a tone for the content and collaboration that follow.
A professor with deep academic credentials and critical scholarly works on the subject, Beau is also founder and CEO of two companies – Lab of Misfits, the world's first neuro-design studio, and Ripple, which holds several highly influential patents in Augmented Reality (AR). Beau is author of three books - the latest is Deviate: The Science of Seeing Differently.
"Certainty will get you to where you've been before. Doubt will get you to the places you didn't know existed."


-Beau Lotto
About Tony D'Amelio
Tony has spent his career putting talented people and audiences together, first in the music business and later representing the world's leading speakers. After concluding 27 years as Executive Vice President of the Washington Speakers Bureau, Tony launched D'Amelio Network, a boutique firm that manages the speaking activities of a select group of experts on business, management, politics and current events. Clients include: Mike Abrashoff, Vernice "FlyGirl" Armour, Geoff Colvin, Daryl Davis, Suneel Gupta, Ron Insana, Katty Kay, Polly LaBarre, Nicole Malachowski, Bill Walton, and Bob Woodward.