Subscribe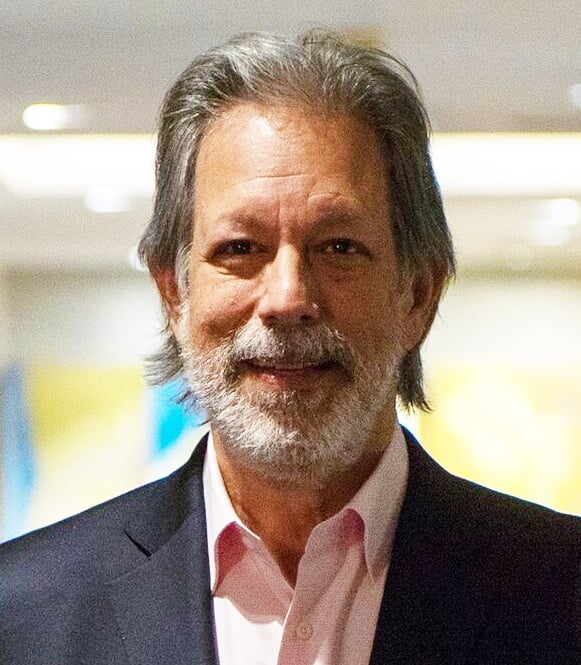 Healthy Workplace Ideas: Stand-up Desk is Path to Peak Performance
A SIMPLE CHANGE MADE A HUGE DIFFERENCE
It's not every day you can make a simple change that has an enormous impact on the way you feel and the way you work. At the end of 2016 I did just that. I bought a stand-up desk. Of all the healthy workplace ideas I've tried, this has made the greatest difference.
Like so many people, I spend my days sitting in front of a computer. In my case I'm booking speakers for events -- communicating all day with event planners, agents from bureaus, and my speaking clients.
I'm a morning person – I start around 5:00 AM with a computer in my lap – sitting on my office couch with a coffee. I move to my desk around 7:30 and stay there pretty much all day – winding up my day at around 6:00 PM. That's a lot of sitting - and I've been working like that a long time.
SITTIN' ON THE DOCK OF THE BAY –
NO, NOT REALLY!
Last August I started a demanding writing project that included an eBook for event planners. It kept me chained to my desk all day, seven days a week, for a couple of months. I wasn't heeding all the advice experts give you – get up and walk around every 20-30 minutes, take a break, etc. I had eBook deadlines and needed to keep writing, which for me is the hardest thing in the world.
About two months later I developed this horrible pain in my hip. I was having a hard time walking and it seemed to be getting worse. It wasn't until I visited my chiropractor that it dawned on me why I was having problems. He asked if I'd changed anything in my life. Until then, all the prolonged sitting hadn't crossed my mind as the reason (I know, I know – stupid me!). Bottom line, the bad hip was the fault of my bad work habits and eBook project.
---
SUBSCRIBE TO THE D'AMELIO NETWORK BLOG AND GET YOUR FREE COPY OF OUR EBOOK - DISCOVER THE DOS AND DON'TS OF BOOKING EVENT SPEAKERS
---
I SHOULD HAVE PAID ATTENTION
Maybe, like me, you've seen all the articles warning about the dangers of prolonged sitting. They're everywhere – like this one from the Mayo Clinic, or this report from CNN, or this article in the Huffington Post. Some have even gone so far as calling sitting the new cancer. A bit dramatic, perhaps, but they're trying to make a point, I guess.
In my case, once I realized the source of the problem, I knew what I had to do. It was time for a stand-up desk. It's something I'd explored halfheartedly in the past - but now I was motivated to make the change because I was feeling so miserable.
In the years before we all became computer-bound, I used to stand up at my sit-down desk and talk on the phone all day. I actually put a cardboard box on my desk and used it as a raised writing surface. It worked fantastically well. It looked a bit silly but I felt great and my productivity was off the charts.
My cardboard box setup won't work in the age of monitors and keyboards. But, I'd seen the ads for motorized and adjustable desk options. I did my research and took the plunge and bought my new desk in October.
HERE'S HOW IT WORKS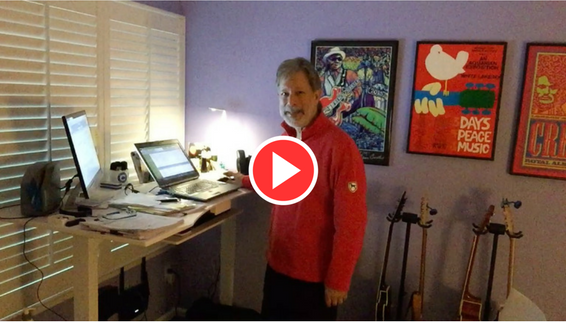 Taking a break from booking speakers to give a quick tour of my new desk. I really love it!
THE STAND-UP DESK SOLUTION WORKED
I now spend about half my day standing up. Within 4-5 weeks after my desk arrived in November, my hip problem pretty much disappeared. And a bonus: I'm more engaged in what I'm doing because the stand-up desk has that effect.
To event planners and industry colleagues, if you spend most of your day sitting, I'm here to tell you that changing to a stand-up desk could make an amazing difference in the way you work and the way you feel. There are lots of great options out there – and if you don't want to get a whole desk, you can buy stands that sit on top of your existing desk. After looking around, Evodesk was the solution that worked best for me.
Here is a great resource that rates different stand-up desks if you want to explore further. The team at ConsumersAdvocate has a comprehensive guide to finding the standing desk that fits your personal needs and workspace.
I'm grateful that this simple change solved my health problem. I cannot recommend this change more highly. It's well worth checking out. It truly is one of my top peak performance tips.
Oh - and the eBook project turned out great, too. Hope you'll check that out as well.
FOR MORE GREAT BLOGS ON SPEAKERS AND THE MEETINGS INDUSTRY CLICK HERE.
About Tony D'Amelio
Tony has spent his career putting talented people and audiences together, first in the music business and later representing the world's leading speakers. After concluding 27 years as Executive Vice President of the Washington Speakers Bureau, Tony launched D'Amelio Network, a boutique firm that manages the speaking activities of a select group of experts on business, management, politics and current events. Clients include: Mike Abrashoff, Vernice "FlyGirl" Armour, Geoff Colvin, Daryl Davis, Ron Insana, Katty Kay, Beau Lotto, Nicole Malachowski, Bill Walton, and Bob Woodward.