Subscribe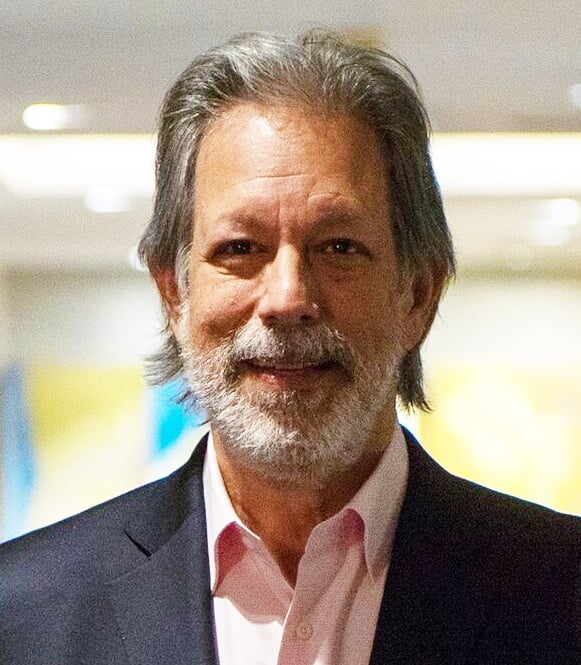 My All-Time Favorite Leadership Speaker is a Musician Keynote Speaker
THE POPULARITY OF LEADERSHIP SPEAKERS
As a group, leadership speakers are quite possibly the most popular category of speakers. In a world that's moving too fast, leadership is the ingredient that helps to focus resources, manage risk, and spot new opportunities. And of all the roles, leadership helps focus the organization's most important asset – its people – on the hard work of doing big change. In short, leadership skills are treasured. With that in mind: this column.
ONE OF THOSE SUBJECTIVE THINGS
First off, let me acknowledge that I'm about to tread into territory that is wildly subjective. Just as in what people find funny - one person's laugh riot is another person's bore – so too is it with speakers. I'm reminded of that every time I channel surf and come across Caddyshack. I want to watch for a while and my wife just rolls her eyes. She hates it – and I still think it's funny, and I'm not even a golfer.
I've been blessed to work with lots of amazing leadership speakers in my career – top leaders from politics and business, great business authors, outstanding coaches and athletes from the sports world, and more. I've literally seen thousands of speakers in person during the over 40 years in the industry. With that disclaimer out of the way, let me answer one of the questions I am frequently asked: who is my favorite leadership speaker?
MY FAVORITE LEADERSHIP SPEAKER
Before I tell you who it is, one more thing; the speaker is not someone I manage. I have absolutely nothing to gain here. If you decide you want to learn more about this person, feel free to ask your favorite speakers bureau for assistance.
So who's my favorite? A man most people haven't heard of: the conductor of the Boston Philharmonic and the London Philharmonia, BENJAMIN ZANDER. I know a musician keynote speaker is an odd choice but the British-born Zander is an absolute dynamo the likes of which I've not seen replicated. Every time I think about him a smile comes to my face – his leadership message is positively infectious.
WHY A MUSICIAN KEYNOTE SPEAKER?
I have a bit of a bias in that I have been around music all my life. I play guitar and I subsequently have a soft spot in my heart for speakers whose presentations build on the power of music. The lessons music has taught me are considerable.
It's the way Ben brings together his experience as a musician, conductor, teacher and speaker that wind up creating a tour de force for the audience. At the end of two hours with Ben, people leave inspired with a new attitude about what it means to be a leader, a coach, a team member, and more. Ben engages their senses with music and humor; revealing a philosophy of leadership and providing the tools to implement it.
Using the same skills he brandishes to forge the roughly 100 musicians in his symphony orchestra to play as one, Ben alters the audience's preconceived notions of leadership and shows a new path they can use to create an organization where people work together better than ever; unleashing the enthusiasm, creativity, and commitment that was there all along but just not quite engaged.
---
Create great outcomes with your keynote speaker. See advice from top event planners on what they look for when booking speakers for their
corporate events.
---
SEEING BEN ZANDER FOR THE FIRST TIME
The first time I saw Ben Zander speak was for a worldwide gathering of 800 top managers of a global financial firm in New York. It was the mid-1990s and this was a seasoned group. They had seen all sorts of top speakers in their careers and walked into the hotel ballroom after lunch as conference goers sometimes do – looking like they would rather be doing something else.
But once they sat down, the lanky Brit seduced them with a two-hour presentation that was as theatrical as it was substantive. He started slowly and methodically, giving them a chance to absorb some fundamental ideas about what he called "the art of possibility"; charming them with his understated British humor to get traction. Then he slid onto the bench of his grand piano and did a clever vignette about how kids learning to play piano progress; with enough dedication, they move through definable stages until they develop a mastery:
The transformative power of classical music | Benjamin Zander
A LEADER'S JOB: BOOSTING CONFIDENCE IN THOSE YOU LEAD
Ben talked about his role as a teacher – which largely comes down to instilling confidence in his students. He explained that when students start in September, he tells them they're all "A" students and to keep that grade they must write a letter to him explaining who they will become by the following May when the class ends. "Dear Mr. Zander, I got my A because . . ." was a great leadership lesson for the audience:
Benjamin Zander - Work (How to give an A)
HOW LEADERS COACH
The role of orchestra conductor always presented an interesting paradox: the conductor doesn't play an instrument but is directly responsible for the sound of the music. That very special skill was on full display in Ben's talk and it's probably the part of his talk that most affected me – and the audience, from what I could see. He demonstrated how a leader can coach someone to be better than they thought they could be. The exercise was powerful because Ben's coaching made a difference the audience could hear. It also contained a great moment when Ben urged the cellist to change his reaction to mistakes -- from a visible cringe to one of thinking "how fascinating!" In other words, let it go!
Ben brought out an unsuspecting local cellist who's been hired for the afternoon. Ben sat him down and put sheet music for a familiar piece in front of him. He asked the musician to play it, and he does a technically fine job of reading the notes. But Ben knows it can be better and goes to work cajoling and prodding the young musician – building up confidence and offering tips; whispering encouragement and shouting pointers. With each pass, the playing got measurably better until finally – after the fourth or fifth time through – the music hardly resembles what was first played. It's pure magic and comes from the heart – not the head. The audience hears it, too, and another important leadership lesson is powerfully made:
Benjamin Zander - Leadership on Display
TURNING THE TABLES ON THE AUDIENCE
The two hours ended on an enormous high. Ben found a woman in the audience whose birthday happened to be the next day. He told the audience they are all going to sing Happy Birthday and make her feel very special. With that, he started to lead the audience in song and the first attempt was pretty dull; sung the way we all normally sing it at parties; nice but uninspired. That's NOT what Ben was after so he went to work on the audience - prodding and cajoling them just like that cellist earlier in the program. He wanted emphasis – he wanted passion – he wanted a spirited rendition of that familiar little song and the audience followed his direction and leadership. What resulted was the most amazing version of Happy Birthday you've ever heard – sung in a way people in that audience had never done before. The room was filled with huge smiles and high-fives when it's over.
When the audience left that room after two hours they were transformed – you could see it in their eyes. The chairman and CEO of the firm came over to me with the biggest smile and said "That was fantastic! Just perfect!" I was pleased that he was happy – and in the process, Ben Zander hooked me with his unique way of offering up leadership lessons that his audience will not forget. I certainly haven't. Thank you, Ben.
A LITTLE ABOUT BEN ZANDER
Benjamin Zander is the conductor of The Boston Philharmonic Orchestra, which he founded in 1979. The orchestra, which features student, professional, and amateur musicians, is not your average musical ensemble; on the contrary, the Boston Philharmonic follows a vision of "passionate music making without boundaries." It's committed to presenting top-notch music in a manner that both music aficionados and the casual listener can enjoy. Ben is also the conductor and founder of the Boston Philharmonic Youth Orchestra and a guest conductor around the world.
With London's famed Philharmonia Orchestra he is recording the complete cycle of Mahler symphonies, recordings that have been received with extraordinary critical acclaim both for the performance and Zander's now famous full-length disc explaining the music for the lay listener. Their recordings of Mahler 9th and Bruckner's 5th Symphony were nominated for Grammys for Best Orchestral Performance. Their latest recording, Mahler's 2nd Symphony, was nominated for a Grammy in 2014.
In 1967, Mr. Zander joined the faculty at New England Conservatory, where he taught an interpretation class, conducted the Youth Philharmonic Orchestra, and conducted the conservatory orchestras. For 30 years he was the Artistic Director of the joint program between New England Conservatory's Preparatory School and The Walnut Hill School for the Performing Arts in Natick, Massachusetts.
Ben Zander is one of the most sought-after speakers in the world. He has given both the opening and the closing Keynote address at the World Economic Forum in Davos, where on another occasion he was awarded the Crystal Award for "outstanding contributions in the Arts and international relations". In 2002 he was awarded the "Caring Citizen of the Humanities" Award by the International Council for Caring Communities at the United Nations. In honor of his 70th birthday, and 45 years of teaching, he was recently awarded an Honorary Doctorate by the New England Conservatory.
His partner Rosamund Zander and he have collaborated on a best-selling book, "The Art of Possibility" which has been translated into fifteen languages.
About Tony D'Amelio
Tony has spent his career putting talented people and audiences together, first in the music business and later representing the world's leading speakers. After concluding 27 years as Executive Vice President of the Washington Speakers Bureau, Tony launched D'Amelio Network, a boutique firm that manages the speaking activities of a select group of experts on business, management, politics and current events. Clients include: Mike Abrashoff, Vernice "FlyGirl" Armour, Chris Barton, Geoff Colvin, Daryl Davis, Suneel Gupta, Ron Insana, Katty Kay, Polly LaBarre, Nicole Malachowski, Ken Schmidt, Mark Schulman, Bill Walton, and Bob Woodward.