Subscribe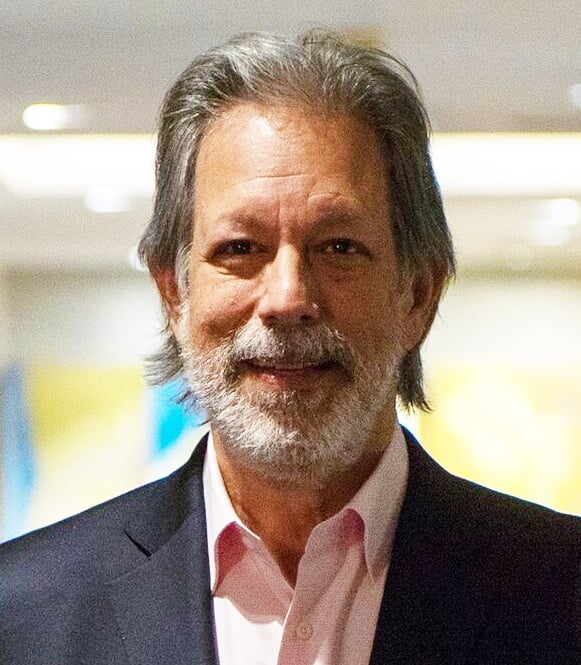 REAL TIME MARKETING TIPS: DAVID MEERMAN SCOTT
No-Cost Real Time Marketing Blog Generates Over $250,000 in Sales in Just Days
DAVID MEERMAN SCOTT, real time marketing strategist and author of The New Rules of Marketing and PR, told me a marketing success story that got my attention. It's such a great lesson, it's worth sharing.
Lindsay Lohan was having money troubles. That news caught the eye of entrepreneur Trent Silver who runs an online business called Cash for Purses. Trent's company buys women's handbags and then sells them to others at a profit, typically on Ebay. His biggest challenge is getting enough high-end product - Prada, Louis Vuitton, etc. Trent decided to seize the moment and post a blog post offering to buy Lindsay Lohan's old handbags.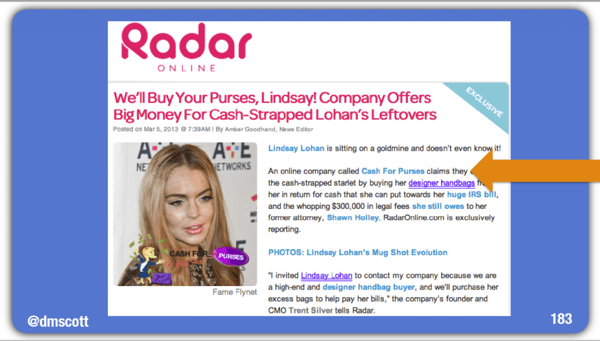 A simple post – which took 30 minutes to create – and included a link to Trent's business. That one post was picked up by news organizations like Huffington Post who wrote about it and included a link to Trent's business. The end result was 8,000 inquiries with a conversion rate of 19% and $250,000 in new sales. The post didn't cost Trent a dime.
David Meerman Scott, the author of ten books on real time marketing tactics and strategies. David helps companies and organizations generate attention using real time marketing. Trent Silver used one of the many strategies David advocates - newsjacking. Newsjacking is the art of taking a breaking news story and interjecting your product or service to get attention.
Welcome to the new rules of marketing and PR where real time marketing engagement generates outsize results.
---
Learn real-time, data-driven tactics to boost your sales with insight from David Meerman Scott's bestselling book, Real-Time Marketing & PR


---
---
The Way People Buy Has Changed
It's an online and mobile world. The internet is the first place people look when they want to learn more about a product or service they're thinking of buying. In order to reach people who want what you have to offer, you need to be there when they are looking. Today – that means creating real time marketing content that captures their attention. In this world, you are what you publish. If you publish great content online, you're great. If you publish nothing online, you're nothing. In this world, creativity and speed trump big budgets and advance planning. Campaigns are out – nimble is in. The world has turned upside down and companies that have fearlessly adopted new strategies are winning big.
These days the best companies are sharing more than selling. This is perhaps the defining disruptive change in marketing principles of the last decade, and will only be strengthened in those to come. It applies to B2B, too, where company-to-company is not as important as person-to-person. The people at companies we all want to reach are looking at content online that relates to their jobs – and being there when they are looking is critical. That's what real time marketing is about - applying the new rules of marketing and PR.
Look Who's Succeeding With Real Time Marketing
HOME BUILDER MATT RISINGER

Matt Risinger is a builder and craftsman from Austin, TX. Matt started blogging regularly in 2008. His website has become a resource for architects and homeowners looking for information on a wide range of home improvement and building issues. The great content Matt creates has attracted interest that has driven his company's growth. In 2015, 2.3 million people watched over 6 MILLION MINUTES of Matt Risinger's videos. Extraordinary! How did he do that? Matt credits David Meerman Scott in this tweet for changing his business and his life.

David's ideas transformed the way Matt promoted his business and fueled sales and company growth. You can achieve a similar result using real time marketing strategies. Matt did it - applying the new rules of marketing and PR - and the results (and profits) have been amazing.
DR. NATASHA BURGERT
Dr. Natasha Burgert is a pediatrician in Kansas City who uses content as the link between her practice and her patients/their parents. Hers is an amazingly effective approach for reaching her potential customers. It's so good that she's the most popular doctor in Kansas City when it comes to being online. Best of all, this type of marketing is free. She is creating content and pushing it out on the web. She has also been featured on mainstream media (CBS This Morning, NBC Nightly News, Associated Press, Washington Post, New York Times, among others) "My blog and social networking is how my brand is marketed and how people find the clinic. They bring in their families because they heard about us…" – Dr. Natasha Burgert
Here's what Dr. Burgert does:
YouTube Channel - Here is a video of her talking about car seats, specifically focused on parents
On Facebook – where she focuses on both parents AND the teenagers that come to her practice
Her Twitter account – active on Twitter and has 15,000 followers
Dr. Burget is great at creating persona-driven content targeted to those she serves.
For teenagers:
For Parents:
INSURANCE AGENT LARRY MCGLYNN
Larry McGlynn owns an insurance agency in the greater Boston area. He is also David Meerman Scott's insurance agent.
Larry has a blog, Massachusetts Family Insurance and he will write a couple of times each month. Topics are wide ranging but always having an angle that would be of interest to a property owner, driver, collectors, etc. A couple of recent examples of Larry's topics:
Larry told David Meerman Scott that much of the new business comes from word of mouth and the frequent blogging gives his customers information that they can share with others about him. On the web, you are what you publish. Larry is publishing great content and reaping the rewards of using the new rules of marketing and PR.
ATTORNEY MITCH JACKSON

Mitch Jackson is a lawyer at Jackson and Wilson California Lawyers in Southern California. He has a blog, he tweets, and he posts videos. Most lawyers tell David Meerman Scott that they can't do the things he talks about because they're in a heavily regulated profession. David's' response to that is to say it's simply not true. It's true, regulations exist that prohibit talking about certain content. Yes, you have to be ethical. Yes, you should not talk about things that might relate to your client's financial positions, for instance. But that doesn't mean you can't communicate.
So Mitch creates videos and puts them on his website;
Mitch has a blog post on issues of interest to the kinds of people and companies he is seeking to represent.
When something is going on in the news, Mitch creates content about it in real time. This generates high search engine results for Mitch. Mitch told David that clients come to him because of his content and they've retained them as a result. He has had several million-dollar settlements as the result of creating this content. For those that know how lawyers earn their fees, you'll know that if you make several million dollar verdicts, he's making a lot of money applying the new rules of marketing and PR.
ELOQUA NEWSJACKS FOR B2B SUCCESS

Eloqua wrote a blog post about a competitor being acquired by Oracle. The post generated enormous industry interest. It also generated over $1 million in new business and added $16 million to Eloqua's purchase price just eight months later. Watch this video excerpt from a speech by David Meerman Scott for the whole story: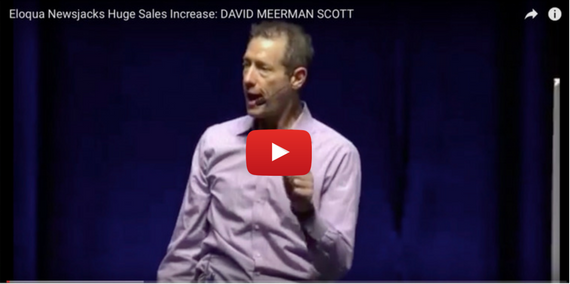 Content Gets Attention – Curation Closes the Sales
You can achieve a similar success by applying the new rules of marketing and PR. When you think like a publisher, you will find that content brings people to your front door. Once they are there, they want to learn more – and refine their understanding of what is available to them.
Fearless Marketing and Selling Using
The New Rules of Marketing and PR
These new ideas of real time marketing are easy to understand. They're easy to implement. But if you haven't done this before, putting these new strategies into practice will feel strange. The biggest challenge is managing your fear: fear about trying something new, fear about whether it will work, etc. But once you align the way people sell with the way people are buying, the results will speak for themselves. Like Trent Silver and the other examples above, you can achieve a similar result.
About Tony D'Amelio
Tony has spent his career putting talented people and audiences together, first in the music business and later representing the world's leading speakers. After concluding 27 years as Executive Vice President of the Washington Speakers Bureau, Tony launched D'Amelio Network, a boutique firm that manages the speaking activities of a select group of experts on business, management, politics and current events. Clients include: Mike Abrashoff, Vernice "FlyGirl" Armour, Geoff Colvin, Daryl Davis, Ron Insana, Katty Kay, Polly LaBarre, Nicole Malachowski, Bill Walton, and Bob Woodward.