Subscribe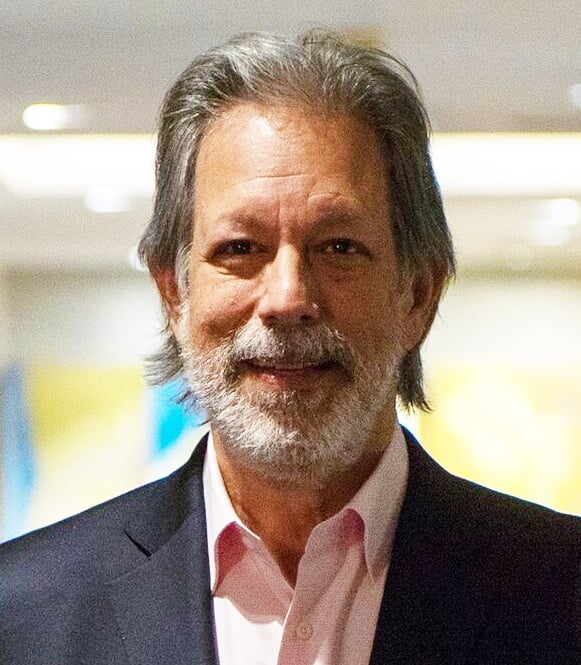 Smart Technology & Robots at Work: The Workplace of the Future
Smart technology has drastically altered how we operate in everyday life, and the workplace is no exception. These technological advancements have contributed significantly to how businesses operate both in the big picture and in day-to-day activities.
With smart technology evolving at such a fast pace, what's in store for the workplace of the future?
Whether you're excited about these new possibilities, or apprehensive about how they will affect you, the workplace of the future is being shaped right before our eyes. It's important to be aware of these advancements and how they will affect the overall business climate.
---
Top economic expert Geoff Colvin argues that humans are underrated. Learn the high-level skills you need to master to stay ahead in this business climate.
---
WELCOME TO THE FUTURE OF THE WORKPLACE
What many people don't realize is that the futuristic-style workplace often depicted in sci-fi movies is much closer to becoming a reality than we realize.
Take the photo below, for example, of Geoff Colvin, Fortune magazine senior editor-at-large, interacting with Pepper, a workplace robot designed to help meet business objectives.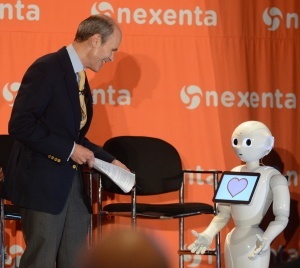 These advancements seem straight out of the future - except they're happening right now.
As revolutionary as it is to have robots at work, it also creates uneasiness in the workforce. How will we adapt? Is it possible to outperform these advanced systems?How will leaders manage the external forces of this disruptive change in their organizations?
In a speaking event in July, Geoff Colvin startled a group of bankers when he spoke about Kensho, software that analyzes data in complicated government reports – the monthly jobs report, for instance. That report comes out at 8:30:00 on the first Friday of every month. Kensho dissects the data in a fraction of a second and delivers it to subscribers in useful format at 8:30:05 -- just 5 seconds after the report goes public. Kensho data is then used by decision-makers to instantly act on the information for investing, etc.
Colvin then read a quote from Kensho's founder where he said, "Within ten years, between one-third and one-half of all current employees in finance will lose their jobs to Kensho and other automation software. The next group of people impacted will be those who deal with clients. Soon, sophisticated automated interfaces will mean that clients will no longer need, or even want, to work through a human being."
This is sobering news for anyone in the financial services world. They're not alone. Other industries are encountering similar disruption. Colvin spends his time writing and speaking for audiences in industries feeling disrupted (and who isn't?!). He offers a glimpse into the future and provides insights to help them adapt and succeed in the uncertainty that lies ahead.
WHAT'S STILL TO COME FOR THE FUTURE?
Any conversation about the workplace of the future inevitably focuses on robots and sophisticated smart technology that are encroaching on work previously done by people. It's happening in every phase of work, it seems. And machines are doing the work faster, cheaper and better than people. It begs the question: what is the future of the workplace? What will people do to earn a living? How will humans add value?
These are the questions that GEOFF COLVIN, senior editor-at-large at Fortune magazine sought to understand with the research and writing of his book, Humans are Underrated: What High Achievers Know That Brilliant Machines Never Will.
For further insight into how the landscape will shape the future, I sat down and asked Geoff more about the future of work and the workplace.
---
THE WORKPLACE OF THE FUTURE - THE GEOFF COLVIN INTERVIEW
HOW IS OUR THINKING ABOUT COMPUTERS AND THE FUTURE OF THE WORKPLACE FLAWED?
"As I did the research and thought it through, it became clear that everybody asks, 'What is it that computers just inherently cannot do?' But the more you look at, it the more you realize that there may be nothing that computers inherently cannot do. Every time we've tried to answer that question, we've turned out to be wrong. There were people who said computers could never play chess at a very high level. Or they could never translate languages very well. Or they could never drive a car. And of course, everyone's been proven wrong on those things."
WHAT'S THE RIGHT QUESTION?
"The question to ask is, 'What things will humans be compelled to do, even if computers could do those things?' That's going to lead us to the high-value skills. And what you end up finding is that the skills of deep human interaction – the abilities that we developed in our evolutionary past that are as deep in us as anything can be: empathy, collaborating, storytelling, building relationships – these abilities that take place between two human beings are going to be economically more valuable with every passing day."
WHY DO YOU THINK ROBOTS HAVE BECOME SUCH A PART OF OUR NATIONAL CONVERSATION RECENTLY?
"Because robots are finally doing astounding things that touch people's lives. They drive cars and trucks better than we do. They analyze documents in legal cases better than lawyers do. A recently introduced robot reads human emotions from facial expressions more accurately than people do and responds with an appropriate facial expression of its own. Robots even perform some surgical procedures autonomously. And the pace of advance is quickening. It's impossible not to wonder: What will be left for us to do?"
HAVEN'T PEOPLE ALWAYS BEEN AFRAID OF TECHNOLOGY'S IMPACT ON THE FUTURE OF THE WORKPLACE?
"If you go to the very beginning of the industrial revolution, people were terrified that those amazing new machines that were being invented back then were going to throw people out of work and everybody would be poor and unemployed and starve and so forth. That's why the Luddites in one famous example were destroying the power looms that were being built -- because they put hand weavers out of business."
SO DO YOU THINK FEAR OF TECHNOLOGY IS UNFOUNDED?
"The truth is technology has always eliminated some jobs – but it's also created new jobs, and the new jobs have been better and more productive than the old jobs, so the people who did them got paid more, which means they spent more, creating more demand. Put it all together and look at an overall economy across time, it's clear that advancing technology has increased employment and has raised living standards spectacularly. There is nothing in human history that comes close to technology for improving the material lives of human beings. So that's the way it's always been – up 'til now."
SO THIS TIME THINGS REALLY ARE DIFFERENT?
"The striking thing now - for the first time ever - mainstream economists and mainstream technologists are saying maybe that 250-year trend is changing. Maybe technology is reaching a point where it will eliminate more jobs than it creates. Maybe this idea that technology could cause wide unemployment is coming true – and that is upsetting a lot of people."
CAN YOU GIVE SOME EXAMPLES?
"Maybe you believe that humans uniquely will always have to perform the highest-stakes, most delicate and demanding tasks in our lives, such as surgery. But researchers at the University of California at Berkeley are training a robot to identify and cut away cancerous tissue—not like today's surgical robots, which are actually tools used by human surgeons, but entirely on its own. Or perhaps you figure technology, for all its wonders, is just nibbling away at the edges of human employment. There aren't that many surgeons, after all. But in May, Daimler began testing the first self-driving semi-truck on the roads of Nevada. The No. 1 job among American men, held by over 2.9 million of them, is truck driver. Not that women are safe. Technology will continue to devour clerical and office tasks, and the No. 1 job among U.S. women, held for now by over 3 million of them, is administrative and clerical worker."
I'M SURE TAXI AND UBER DRIVERS ARE AMONG THEM.
"Uber understands that self-driving cars are the future. Travis Kalanick, Uber's founder, said that the reason the rides in an Uber car cost as much as they do is that you're paying for 'the dude in the front,' as he says. Well – he wants to get rid of 'the dude in the front.' And he will. The question that it makes you think about is what does it mean for the drivers – be it today's Uber drivers or taxi drivers? That's a job where the skills of deep interaction aren't all that important – they do make a difference, but what the driver is doing mostly is pretty mechanical – he's driving that car from point A to point B. Any job that doesn't really demand significant skills of deep human interaction – like driving - is probably going away."
THAT'S SOBERING NEWS.
"It is - and everyone needs to look at their own job and ask, 'Does it require and reward the skills of significant human interaction?' And if the answer is no, then that job is probably going away, because sooner or later technology is going to do it better. This is a new way to think about employment. Classroom-taught textbooks skills – accounting or engineering or whatever – those are still important, but those are not the high-value skills that will enable some people to make good livings while others don't. We actually came up with a short quiz aimed to help people understand their risk of being displaced by technology." (Here is the link to Colvin's quiz.)
WHAT ABOUT A PROFESSION LIKE SALES? IT WOULD SEEM TO BE IMMUNE SINCE IT'S RELATIONSHIP-CENTRIC.
"It's a great example because what we see happening is that the profession is bifurcating. In one arena, the buyer can find out everything. In that world, there are no secrets anymore. That kind of sales person is disappearing. Google, for example, has more ad revenue than the entire U.S. magazine industry, and virtually all of that ad revenue is sold without human beings – it's all automated. In fact, the number of people in the U.S. advertising industry has shrunk dramatically over the past ten years in part because there were all kinds of people involved in ad sales who just don't need to be in it anymore. There's even a term for it – in my world, the magazine business, it's called programmatic buying, and it's all done by computer. So for sales of that kind, the salesperson's job is disappearing, and in many cases has already disappeared. The other arena is where the person is buying a $10-million turbine from GE. That's not going to be done by computer. That's a complicated sale to be done in person, and it's going to take months or years to make the sale – and it's going to be based in large part on relationship. The salesperson who can look into the other person's eyes and can observe their body language and adjust accordingly is going to be more valuable than ever before."
YOU DON'T BELIEVE TECHNOLOGY WILL MAKE HUMANS IRRELEVANT AT WORK – WHY NOT?
"Because for sound economic reasons, we won't want technology to do that. We are hardwired from our evolutionary past to value human relationships, and as a practical matter we must use those relationships to solve the most important human problems. Make no mistake – technology is profoundly reordering the value of human skills, and many people will continue to lose their jobs to technology. But the economy will reward people with different skills, primarily skills of human interaction."
HOW ABOUT AN EXAMPLE.
"A great example that everyone can relate to is working together in small groups to solve problems. The reality of life is that multiple constituencies must be involved in solving the most important problems, and those problems inevitably change as we work on them, so human groups will have to solve them. The big surprise is that the key to group effectiveness is social sensitivity. The IQ of the group members means little, and other traditionally valued factors like group cohesion, satisfaction, and motivation contribute nothing. But the relationship skills of the members mean a ton. If you're making decisions all by yourself, then a) you're not making the most important decisions; b) you're not reaching the best possible decisions; and c) you're increasingly in danger of being replaced by technology."
SO WHAT SKILLS WILL WE CONSIDER HIGH-VALUE IN THE FUTURE?
"The economy will value the skills of human interaction – empathy above all, collaborating, storytelling, leading, creating and innovating with others. One reason I believe this is that it simply makes sense in light of technology's advance and our deepest human imperatives, as I've explained. Another reason is that it's happening already. Major employers are increasingly saying they need workers with relationship skills, cultural sensitivity, and collaboration skills. They're saying explicitly that knowledge skills are no longer worth much without interpersonal skills. That's the future of the workplace."
IS IT POSSIBLE FOR WORKERS AND/OR BUSINESSES TO TRAIN FOR THESE SKILLS?
"Emphatically yes, despite what most people believe. We tend to think interpersonal abilities are traits, not skills – 'She's a born leader,' 'He's a real people person.' But all these abilities can be built and are being built at leading-edge institutions – the Cleveland Clinic, the U.S. Army, the Stanford Business School, and many others."
DO YOU BELIEVE NEW JOBS WILL EMERGE AS LEGACY JOBS ARE AUTOMATED?
"Absolutely, and one of the opportunities of our era is foreseeing those new jobs before others do. At the dawn of the Internet, few people could see the future need for search engine optimizers or mobile app developers, but they became highly valuable jobs. I confess that I'm not sure what the next new jobs will be, but we can take comfort in knowing that they'll appear."
YOU ASK, "IS IT A WOMAN'S WORLD?" IN CHAPTER 10. WHY?
"The idea that women are better at social interaction is not surprising, but what was most striking to me was how strong the research was supporting this. These results are on average. They don't mean that every woman is better than every man, and everyone, both men and women, can get better at these skills. The key message is that everyone needs to become stronger in the skills of deep human interaction, and women overall have a competitive advantage going in. I think we'll see change at an increasing pace as it relates to the rise in centrality of the social strengths."
WHAT WOULD YOU TELL POLICYMAKERS IN WASHINGTON WHO KEEP PROMISING TO BRING BACK JOBS THAT SEEM TO BE DISAPPEARING TO TECHNOLOGY?
"I'd tell them first to confront reality and acknowledge that manufacturing jobs are in long-term decline – not just in the U.S., but worldwide. In the U.S., we've been manufacturing more stuff with fewer people since 1979, and for politicians to say they will reverse that trend is dishonest and cruel. Then I'd tell policymakers to realize that high-value skills are changing, and most organizations are still figuring out how to train and develop workers with those skills. Government would be well advised to encourage a thousand experiments in developing these skills rather than try to find the answer alone."
GEOFF COLVIN - ONE OF THE GREAT SPEAKERS ON BUSINESS
Geoff Colvin is a top economic expert and popular speaker at major business meetings and conferences all over the world. His landmark bestseller, Talent is Overrated, remains one of the most popular-selling books in its class. In addition to being an in-demand keynote speaker, Geoff is also a gifted moderator and discussion-leader.
WATCH GEOFF COLVIN SPEAK ABOUT HUMANS ARE UNDERRATED and the workplace of the future on YouTube.
GIVE US YOUR FEEDBACK: Are you worried that technology will replace you at work? Do you worry that fewer interactions are with humans - like self-serve kiosks at McDonald's, for instance? Tell us what you think below.
About Tony D'Amelio
Tony has spent his career putting talented people and audiences together, first in the music business and later representing the world's leading speakers. After concluding 27 years as Executive Vice President of the Washington Speakers Bureau, Tony launched D'Amelio Network, a boutique firm that manages the speaking activities of a select group of experts on business, management, politics and current events. Clients include: Mike Abrashoff, Vernice "FlyGirl" Armour, Geoff Colvin, Daryl Davis, Ron Insana, Katty Kay, Polly LaBarre, Nicole Malachowski, Bill Walton, and Bob Woodward.