Subscribe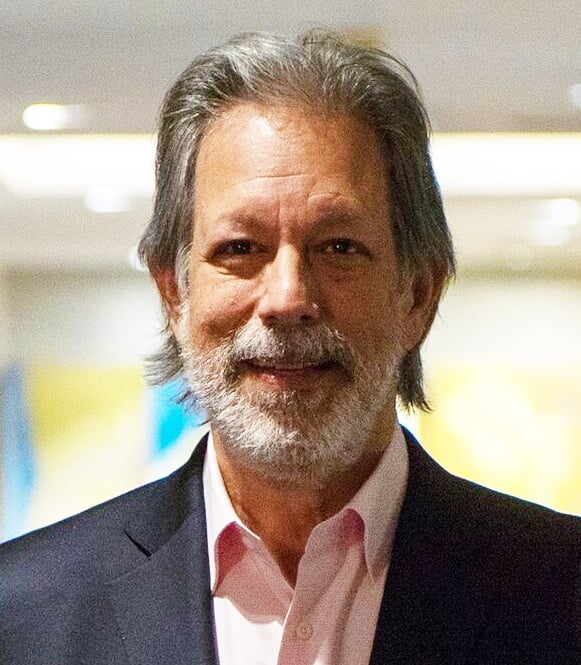 Tired of feeling helpless, a family I know flew to Poland to entertain Ukrainian children. Read their incredible story.
PREFACE
Before I tell you about those happy smiles, I need to provide a bit of background.
The magician BILL HERZ and his wife Gwenn are treasured friends.
Days before my wife Joanna went into the hospital for life-changing brain cancer surgery, we had dinner out. Gwenn looked at us and said, "Your friends want to help but they just don't know how. I'm going to help them." Then she asked for the names and contact info for close friends who lived nearby.
Gwenn and Bill arranged for two weeks of hot meals delivered to our door every night – with enough for leftovers at lunch the next day. It was an extraordinary act of kindness at a time when Joanna had 17 different medication events every day that I needed to track. I was learning to be a caregiver at a very intense level, and the kind efforts of Bill and Gwen gave me breathing room to absorb my duties and get into some kind of routine.
Most important, we learned an important lesson on how to help when others we knew faced similar challenges. Something as simple as not having to prepare a meal is a gift.
WHAT ABOUT THOSE CHILDREN?
In early April I spoke with Bill who announced that he, Gwenn, and his grown children Zach and Dana (who's also a magician), planned to go to Poland to do as many magic shows as could be arranged for Ukrainian children displaced by the war.
The children in the photo are watching Bill perform. Their faces show pure joy, and for a moment – just a moment – the sadness and fears of their young lives are shunted aside. That's the outcome Bill, Gwen, Zach, and Dana were hoping for.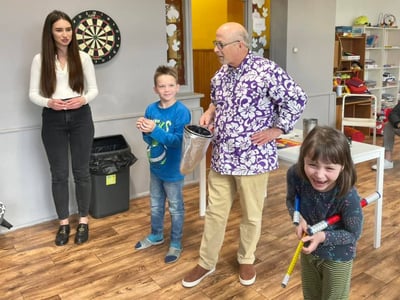 Rather than me going on here about what happened. I'm including text from Bill's Facebook posts. He tells the wonderful story of his experience and how it all came together. Just reading through his words again this morning brought me to tears - again. So extraordinarily powerful.
Bill and his family once again share, by example, an important lesson: In a world where we can feel like it's impossible to make a difference, we can indeed make a dent. The joy on those children's faces proves it.
By the way, you can see more about the trip on Bill's Facebook page: https://www.facebook.com/bill.herz.7.
BILL HERZ RECAPS HIS TRIP TO POLAND
POST #1 – ON THE ROAD IN POLAND
So many people have asked how this Poland trip came about. Here's the abbreviated version.
Like everyone else, Gwenn and I felt so helpless watching the news about the Ukrainian situation and felt we could do more than make donations. So, we decided to do magic shows for the Ukrainian refugee children in Poland.
We shared our idea with our children (our daughter is a magician and son a techie). They both immediately wanted in. We got to work putting together a silly magic show with the sole intention of getting the kids laughing.
We spread a wide net and through various contacts, we started reaching out to grassroots organizations and the response was overwhelming. An escape from the emotional and physical upheaval is desperately needed.
Not knowing the geography made scheduling virtually impossible for us. However, a college friend (David Friend) jumped in and introduced us to John Banka, a childhood friend who lives in Warsaw.
John immediately jumped on board and became the tour coordinator arranging the scheduling. He is and has been a life-saver, taking care of every logistical potential nightmare, finding us a Ukrainian translator, and scheduling every show.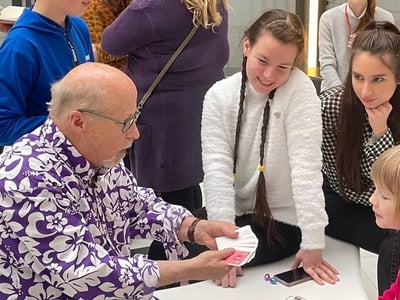 The shows have been going over wonderfully yet are heartbreaking at the same time. It's wonderful to see the kids belly laugh at the silliest of tricks and gags (including my daughter "sneaking" a whoopee cushion underneath me) but it rips you apart when you see the mothers holding back tears as it's been so long since they've seen their kids so carefree.
After each show my daughter and I are besieged by parents and children wanting to have their picture with us. I'd love to think it's because of our stellar performances but realize that it's just meant as a keepsake of a happier time and that the moms then send pictures back to their husbands and partners who are fighting to let them know they are OK and surviving.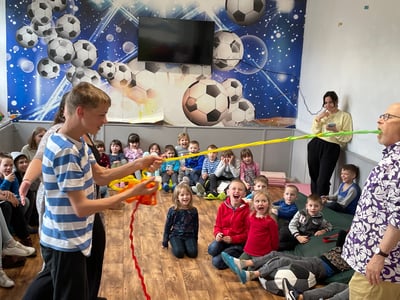 We are doing about 20 -25 shows in Warsaw, Łódź, Gdansk and Krakow. The audiences usually range in size from 50-350 kids and moms. We haven't seen any man in any audience. We are already exhausted and are frustrated that we have to turn down more requests.
So many people have asked about donating and we will come back with the names of several organizations that we have had first-hand experiences with so that you can make a donation to where we know the money will be put to good use.
Thank you to everyone for your kind words and support! For real time updates you can follow my daughter on Instagram @Danaherzzz
POST #2 – BACK IN THE USA
Thank you all for all the wonderful notes of support from my previous post, they were incredibly uplifting and helped us when we needed it the most.
We are all physically exhausted and emotionally drained after what felt like months of crisscrossing Poland. Our friend Rand Cooper who was with us (couldn't imagine him not being there) is a great writer and will be writing extensively about the whole trip in the near future. I have not had nearly enough time to reflect so far, but here are a few random thoughts in the meantime…
My faith in humanity might have been completely restored if I didn't stop to think why we were there.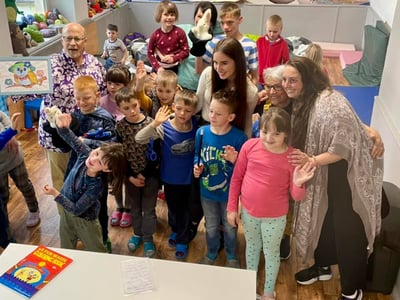 I can't find a word strong enough for my admiration and respect for the Polish people and their actions in helping their Ukrainian neighbors. Everywhere you looked were signs of support for the Ukrainians: Ukrainian flags hung side-by-side with Polish flags everywhere. Flower beds were blue and yellow, signs showing support hung in many storefront windows.
Tents were set up at train stations to clothe and feed the refugees, medical care was free, blood banks were set up, donation centers were around every corner and psychological counseling was available for anyone who needed it. Many people we met had refugees staying with them (one man had 20 kids) or were involved in humanitarian aid in some way or another. We didn't see a homeless person the whole time. Truly amazing. I also never realized how beautiful a country Poland is and I would suggest it to be on everyone's visit list.
I lost track of how many shows we did but we are estimating that we performed for 2000-3000 children.
The Ukrainian mothers who accompanied the children looked beyond exhausted. Some mothers had three to four children and were with them all day without a moment to themselves.
Psychologically, the families who left Ukraine earlier seemed to be coping better since their kids weren't subject to the bombs and the gruesome street scenes first hand. As you'd imagine, they hang in a kind of limbo – all want to go home but the uncertainty of when (and if) is as traumatic as being away, and missing their loved ones - the fathers remained in Ukraine to assist in the war effort.
The shows were so fun, and it was great to see the kids being kids, laughing at the same silly stuff that every kid laughs at and feeling that sense of amazement that comes along with seeing magic right in front of them. It was great to be able to give the moms a short break in their day.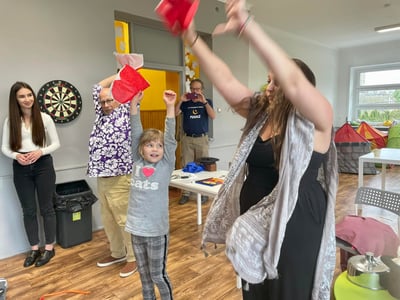 We had two wonderful Ukrainian translators. One, a lawyer from Ukraine who was in Poland with his family; the second was a lovely young woman, Anya who traveled the country with us. She had come from Kyiv where she studied and worked (originally from Odessa) and arrived in Warsaw at the beginning of the war. Both will be lifelong friends and we've already promised Anya, we'll visit her in Ukraine for her wedding…of course she's got to find a partner first…but why worry about details!
At the end of the show, my daughter "magically" made candy appear for everyone and I was blown away by how many of the children asked for another piece to give to a younger sibling. It was incredible how they looked out for each other.
Like every other parent in the world, I often want to "strangle" my kids, but during this trip I swelled with pride as I watched both of them get involved in every aspect of our trip and showed compassion in the way only one could dream of. Dana started dance parties after the shows, while Zack was blowing bubbles and hitting beach balls to help interact with the kids.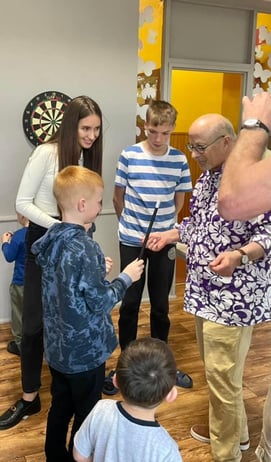 Not sure what I can say about my wife Gwenn except that there isn't a chance that this trip would have happened without her. She's the smartest, most sensitive and caring person I've ever met and she is jam-packed with common sense and energy. I married way, way above my pay grade.
Once people found out why we were there, everyone wanted to help - from cab drivers to hotel clerks to government officials, everyone was on board. As the saying goes "it takes a village."
Finally, a gentleman by the name of John Banka, a Chicago native who has lived in Poland for many years was amazing. Once he heard our goals he took over and planned everything - did I mention in less than a week! It was incredible. Thank you, John.
The only hiccup we've run into is how to actually donate to a specific cause. We were at some wonderful orphanages and refugee centers that could badly use donations, however, the amount of paperwork needed to specify where it goes is extremely time-consuming and would involve a physical trip to your bank.
We are thinking of setting up a Go Fund Me page to distribute funds to several of the organizations we found. If we go that route, we'll let you know. In the meantime, any donation to any well-known refugee cause would be put to good use.
About Tony D'Amelio
Tony has spent his career putting talented people and audiences together, first in the music business and later representing the world's leading speakers. After concluding 27 years as Executive Vice President of the Washington Speakers Bureau, Tony launched D'Amelio Network, a boutique firm that manages the speaking activities of a select group of experts on business, management, politics and current events. Clients include: Mike Abrashoff, Vernice "FlyGirl" Armour, Chris Barton, Geoff Colvin, Daryl Davis, Suneel Gupta, Ron Insana, Katty Kay, Polly LaBarre, Nicole Malachowski, Ken Schmidt, Mark Schulman, Bill Walton, and Bob Woodward.