Subscribe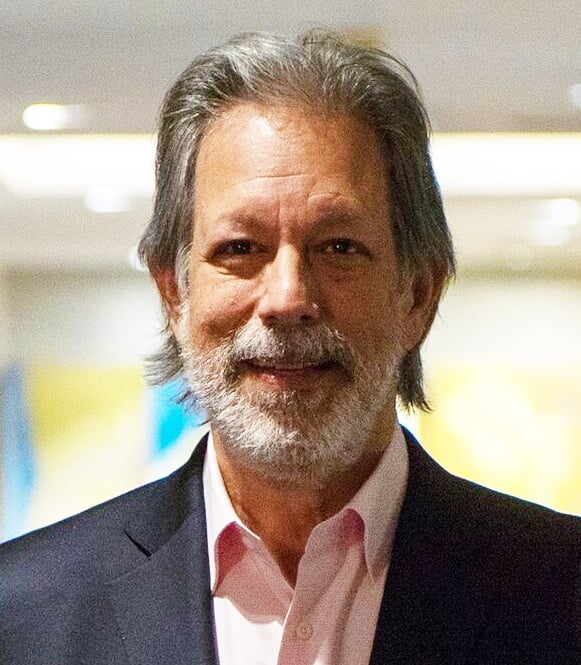 Top Speakers on Navigating Business Disruption
Innovation | International Affairs & Business | Managing/Leading Change
Talking about business disruption is almost becoming a cliché. Upheaval is so prevalent that it's become the norm. The bigger issue is how to find solid expertise to help you and your organization successfully navigate the different forms of disruption.
How Do You Succeed In Disruptive Times?
Business disruption today comes in many forms. There's the Uberization of everything, where upstart competition can literally come out of nowhere. And if it's not upstarts, it's established companies invading new businesses: Google becoming an auto company and Ford changing the game by being the first to offer purchase-and-share options. Then there's the sheer pace of technological change including robots and AI which drastically alter the competitive landscape, increase efficiency, and impact the workforce. Policy uncertainty is another huge wild card. What kind of changes must leaders anticipate regarding global trade, corporate tax reform, and immigration reform in the next few years? Will backlash towards the corporate world result in an even tougher regulatory environment? It all adds up to business disruption in spades.
We're Changing as Fast as we Can - But is it Enough?
All this change puts pressure on humans and organizations the likes of which the business world has never faced before. It's become imperative to learn to adapt and change as fast as the world around us. Changing and adapting the same old way is not going to cut it in a world rife with business disruption. That's why companies and organizations routinely turn to outside thinkers with fresh insights on how to manage, lead, and compete in a world overwhelmed by the pace of change.
Here are ten great candidates for your consideration on the subject of business disruption and managing risk:


Leadership & Organizational Change Expert Mike Abrashoff: Organizational Culture is Everything
Leadership keynote speaker MIKE ABRASHOFF is an expert on managing & leading organizational change. He is at the center of one of the most amazing turnaround tales in organizational history. When he took command of the near-worst performing ship in the Navy, the USS Benfold was plagued by low morale, high turnover, and abysmal performance evaluations. Twelve months later, the ship was ranked best ship in the Navy – using the same crew. What happened? As Mike recounts in his bestselling book, It's Your Ship, he learned to lead differently.
He swapped command and control for commitment and cohesion. In order to achieve breakthrough levels of performance, Mike urges leaders and organizations to set aside self-imposed limitations and empower the entire team to re-imagine every aspect of the operation. Creating a culture that can do that is everything. Mike didn't turn the ship around – his crew did that: "What I did was change the culture." The result speaks for itself.
Learn more about Mike Abrashoff, or view video excerpts from his speeches by clicking here.


Innovation Expert Polly LaBarre: Learning to Change as Fast as Change Itself
"Is your organization capable of changing as fast as change itself?" That's the question POLLY LABARRE explores with audiences. She unpacks the best ideas that forward-thinking organizations and leaders are using right now to ramp up innovation and shake up the competition. For two decades, Polly LaBarre has worked to help make organizations more resilient, innovative, and inspiring. She began this exploration as a founding member at Fast Company magazine where she sought out the rebels, misfits, and mavericks who were upending their organizations and industries and the way they worked and competed.
She also co-authored the bestselling book, Mavericks at Work: Why the Most Original Minds in Business Win, which has been published in 16 languages. Now, Polly and her team consult with the world's top companies to help them transform their cultures and embolden and equip leaders at every level to make a meaningful impact.
Learn more about Polly LaBarre, or view video excerpts from her speeches by clicking here.


Leadership & Performance Expert Geoff Colvin: Competing & Adapting in the Friction-Free Environment
The ability for data, money, and talent to move almost instantaneously anywhere in the world has created a friction-free economy. What are the best companies and leaders doing to take advantage of this environment? GEOFF COLVIN covers the most important issues facing business for Fortune and the CBS Radio Network. He talks daily to the world's top business leaders and policy makers about how they are dealing with those issues. Colvin's expertise covers leadership, management, globalization, regulation, corporate governance, competition, the economy, the InfoTech revolution, human performance, and related issues.
Geoff's columns and cover stories in Fortune have earned him millions of loyal fans, many of whom also hear him on the CBS Radio Network, where he reaches seven million listeners each week. Geoff Colvin is author of four books including the groundbreaking international bestseller Talent Is Overrated: What Really Separates World-Class Performers from Everybody Else. His latest book is The New York Times bestseller Humans are Underrated which looks at the future of work and how humans will fit into a workplace filled with robots and smart technology.
Learn more about Geoff Colvin, or view video excerpts from his speeches by clicking here.


Top Political Speaker & BBC Anchor Katty Kay: Politics, Policy & Uncertainty
Politics and policy uncertainty are impacting business like never before. KATTY KAY, lead anchor for BBC World News America, is based in Washington, D.C. and covers American politics and global affairs for the network. As a Brit working in America, Kay's outsider-looking-in status gives her a unique perspective on the machinations of Washington. Katty's experience working around the globe – she has reported from South Africa, London, Japan, and now America – helps Katty explain to audiences with authority how American news is being received elsewhere in the world. What's going on in the White House . . . Congress . . . the Supreme Court . . . and elsewhere around the world?
Katty Kay helps unravel what's happening and separate fact from spin. Katty's broadcast is carried by BBC News channels globally and on PBS channels in the U.S., giving her a vast international audience. She is also a frequent guest commentator on NBC's Meet the Press as well as a regular guest and substitute co-host on MSNBC's Morning Joe.
Learn more about Katty Kay, or view video excerpts from her speeches by clicking here.


Investigative Journalist Bob Woodward – Politics – Where Have we Been and Where are We Going?
No one else in political investigative journalism has the clout, respect, and reputation of BOB WOODWARD. It started when he and Carl Bernstein broke the deeply disturbing news of the Watergate scandal. The book they wrote, All the President's Men, won a Pulitzer Prize. Since then, Woodward's career has spawned 18 national bestsellers – 12 of them #1 – more than any other contemporary nonfiction author.
In his talks, Woodward pulls back the curtain to captivate audiences with stories of what's happening in Washington right now. It's sometimes surprising, at times shocking, and always fascinating as he blends up-to-the-minute stories with anecdotes from the past, providing context from eight presidential administrations. In an age of 24-hour news, social media, and snarky politics, Woodward helps people get beyond the sound bites to understand what's really going on in the halls of power and how it might impact them.
Learn more about Bob Woodward, or view video excerpts from his speeches by clicking here.


Learning to Manage the Headwinds of Change
COL. NICOLE MALACHOWSKI (USAF, RET.) is the first woman Air Force Thunderbirds pilot. Fewer than 1 in 2,000 pilots achieve the honor of joining that elite flying team. They are the epitome of high-performance culture under pressure. Nicole brings world-class leadership and execution lessons from her 21-year Air Force career to the idea of creating an organizational culture that succeeds by adapting to the disruptive headwinds of change.
Learn more about Col. Nicole Malachowski (USAF, RET.), or view video excerpts from her speeches by clicking here.
Top Sales Speaker & Marketing Strategist David Meerman Scott: It's a New World - The Way People Buy Has Changed
The way people buy has changed, but the way most companies sell has not. DAVID MEERMAN SCOTT is a master of the new rules for growing business, spreading ideas and generating attention in our always-on, Web-driven world. Advance planning is out – speed and agility are IN! Scale and media buying power are no longer a decisive advantage. Instead, Real-Time is the strategy for the future where content is king! Those who embrace these new ways will leap ahead of competition. David shows how to connect with no-cost/low-cost strategies and tactics that help companies stand out, get noticed, and capture hearts and minds. This is not about embracing social media. Social media are simply tools. Real-Time requires changing the mindset.
David is an internationally acclaimed sales and marketing/PR strategist. He is author or co-author of ten books (including four international bestsellers) with over one million books in print. His most popular, The New Rules of Marketing & PR, is now in its 5th edition and is available in 28 languages.
Learn more about David Meerman Scott, or view video excerpts from his speeches by clicking here.


Top Sports Motivational Speaker Bill Walton: Business Lessons From a Life in Sports
BILL WALTON is a basketball legend, broadcaster, cultural icon, philanthropist, and survivor. He knows a thing or two about overcoming overwhelming odds to achieve his dreams, and he brings that message to business audiences with great success. The UCLA and NBA Center endured over 30 surgeries to play the game he loved. When his career was over, he dreamed of becoming a broadcaster. But before he could get behind the mic, he had to overcome a lifelong stutter. He has since been recognized for his unique broadcasting work. Then, when his back gave out after years of pro-athlete abuse, he spent 2 ½ years on the floor of his home unable to walk, until finally relenting to surgery.
Now, he has not only recovered, he is attached to his cherished bike and rides in several 650+-mile charity races each year. A two-time NBA champion, named one of "50 Greatest NBA Players of All Time" and author of the 2016 bestseller Back from the Dead, Walton inspires audiences with tales of how resilience and determination can carry you through the toughest of challenges.
Learn more about Bill Walton, or view video excerpts from his speeches by clicking here.

________________________________________________
ABOUT DN - A SIMPLE IDEA FOR GREAT BUSINESS SPEAKERS
There's a very simple idea behind the creation of the D'Amelio Network. We set out to curate and manage a select collection of experts who are also great speakers. Our goal was to be their advocate and assure that their expertise touched the widest possible audience. Our clients are experts on the issues driving change and business disruption – global competition, policy uncertainty, economic volatility, and the ever-increasing impact of technology. All these issues present an extraordinary challenge (and opportunity) to leadership. The experts we've assembled address those issues head-on and provide solutions.
WHAT EXACTLY IS DN?
DN is not a lecture agency or speakers bureau. The model is different. We manage a small collection of great experts who speak. We don't list hundreds of speakers. On the contrary, we are small by design. Our intention was to gather a select group of the best business speakers who cover the most pressing business issues and advocate for them. Our speaking clients offer insights on the most pressing issues facing business: leadership and competitive strategies, breakthrough business performance, creating a culture of innovation, organizational change, revising the business model, motivating the workforce, Washington politics, global business, international politics & affairs, and so much more.
BOOK A D'AMELIO NETWORK SPEAKER FOR YOUR NEXT CORPORATE EVENT
Our intense focus on just a few speaking clients has a tangible benefit for event planning professionals. By virtue of our management role, we have deep knowledge of the expertise of each of our speaking clients. We're exceptionally capable at explaining the different ways to leverage that expertise for the benefit of the audience. DN is an outstanding resource for great business speakers.
JOIN THE CONVERSATION: What is the biggest disruptor for your business or industry? What's your best advice for navigating the overwhelming amount of change business encounters each day? Tell us about it below in the comments section.
About Tony D'Amelio
Tony has spent his career putting talented people and audiences together, first in the music business and later representing the world's leading speakers. After concluding 27 years as Executive Vice President of the Washington Speakers Bureau, Tony launched D'Amelio Network, a boutique firm that manages the speaking activities of a select group of experts on business, management, politics and current events. Clients include: Mike Abrashoff, Vernice "FlyGirl" Armour, Geoff Colvin, Daryl Davis, Ron Insana, Katty Kay, Beau Lotto, Nicole Malachowski, Bill Walton, and Bob Woodward.