Subscribe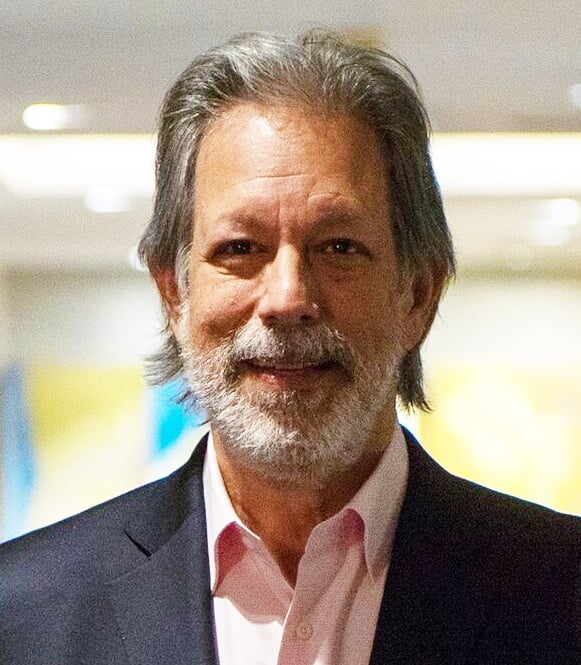 Famous sports broadcasters: Bill Walton upends baseball tradition to create "best game ever"
As entertaining in the broadcast booth as he is a keynote speaker
"Bill Walton is a national treasure," read one headline. "Walton was tapped for color commentary in Friday night's White Sox broadcast and it was a treat for the senses," it went on to say.
The Chicago White Sox tried an experiment in the broadcast booth last weekend. Regular announcer Steve Stone was taking the weekend off and the team paired Jason Benetti with four guest broadcasters, one of which was basketball legend BILL WALTON. The decision was inspired because Bill Walton lit up the online universe - becoming the #1 trending topic on Twitter that evening.
Walton preceded his trip (no pun intended) to the broadcast booth with a pre-game talk to the team about the challenges of playing professional sports. It was uplifting advice from an icon who knows a thing or two on the ups and downs of a pro sports career. Bill then ambled up to the White Sox booth on the 50th anniversary of Woodstock, wearing extremely bright Sox branded tie dyed t-shirts with a mindset to match.
Benetti knew the kind of evening he was in for, having worked with Walton at the Maui Invitational Basketball Tournament for ESPN in the past. He gave Bill lots of room to be Bill.
With that the evening began and the headlines after the game said it all:
"Bill Walton calling a White Sox game was AMAZING…"

"…dazzles in the booth with electric commentary and enthusiasm."

"…best baseball commentary ever."

"Walton broadcast…was nothing short of brilliant."

"adds signature flair to White Sox broadcast."
Here's a recap of some of Bill's best moments:
TWITTER COMES ALIVE FOR WALTON
The NBA legend had so much fun in the booth and the media and baseball fans loved it, too. And then the online world was raving about Bill's broadcasting: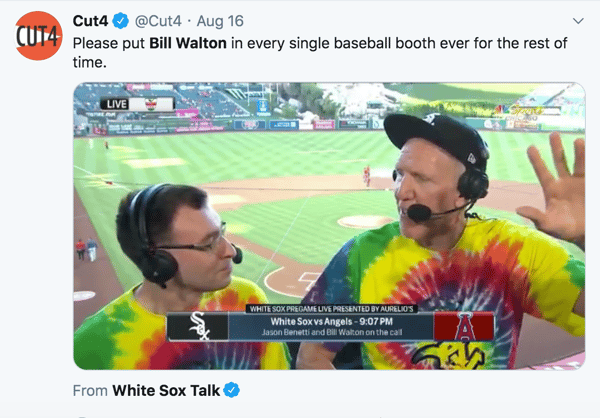 The White Sox tweeted, "August 16, 2019 will forever be known as the 'Bill Walton Game.'"
CNN's David Axelrod: "What better way to mark the 50th anniversary of Woodstock than to watch the always colorful @BillWalton do color commentary? ... Not many baseball insights but deep lessons for life!"
Actor Joseph Gordon-Levitt: "We need more Bill Walton level enthusiasm in our everyday lives."
ESPN's Pat McAfee: "This man is my hero in the 'analyst' world. Hilarious, inspirational, and wildly insightful."
NBC Sports Chicago: "Walton is a National Treasure... but sometimes you have to play the outro music just to get him to stop speaking."
MLB's Cut4 account: "Please put Bill Walton in every single baseball booth ever for the rest of time."
MLB.com's Whitney McIntosh: "I hope this *never ends.*"
THEN THE MEDIA WEIGHED IN
CHICAGO TRIBUNE: Phil Rosenthal wrote the one-time pairing of Walton and Benetti "was a rush." The "weird energy and wild tangents more than lived up to the pregame buzz." It seems that no one "was more excited about Walton working the baseball game than Walton." Additionally, no one "was less concerned with his lack of expertise, either".
NBC SPORTS CHICAGO: Dan Santaromita noted after Mike Trout hit a home run, Walton "compared him to a fish." He said, "That's Trout? Swimming upstream, avoiding all the flies and sending one ricocheting through the universe." Walton "didn't stop the weird fun once the game started," and there were "plenty of Grateful Dead and Woodstock references on the broadcast".
YAHOO: Mark Townsend wrote thanks to Walton, what "would have been just another Friday night game in MLB was not only the talk of baseball, but the talk of all social media." There was "no actual baseball analysis," as Walton was just "delivering one philosophical musing after another." Even after nine innings, it "felt like we'd not yet scratched the outer surface of Walton's mind".
BILL WALTON, MOTIVATIONAL SPEAKER
It's important to remember that Bill Walton is a beloved sports icon who is as entertaining on stage as he is in the broadcast booth. Bill is a brilliant motivational speaker - inspiring audiences with lessons that will help them be their best in business and in life - subjects like leadership, teamwork, personal achievement, and more.

When it comes to his talks, you don't have to be a sports fan to enjoy Bill Walton's presentation. Just sit back and enjoy as the legendary Hall of Fame icon entertains and inspires. Here are a couple of samples:
BILL WALTON: John Wooden Built a Dynasty on Character
BILL WALTON: Improbable Transition - The Power of Persistence
In his speeches, Bill Walton inspires audiences. "Those not willing to risk going too far will never know how far they can go," he says.
Here are Bill Walton's keynote speech topics:
About Tony D'Amelio
Tony has spent his career putting talented people and audiences together, first in the music business and later representing the world's leading speakers. After concluding 27 years as Executive Vice President of the Washington Speakers Bureau, Tony launched D'Amelio Network, a boutique firm that manages the speaking activities of a select group of experts on business, management, politics and current events. Clients include: Mike Abrashoff, Vernice "FlyGirl" Armour, Geoff Colvin, Daryl Davis, Suneel Gupta, Ron Insana, Katty Kay, Polly LaBarre, Nicole Malachowski, Bill Walton, and Bob Woodward.