Subscribe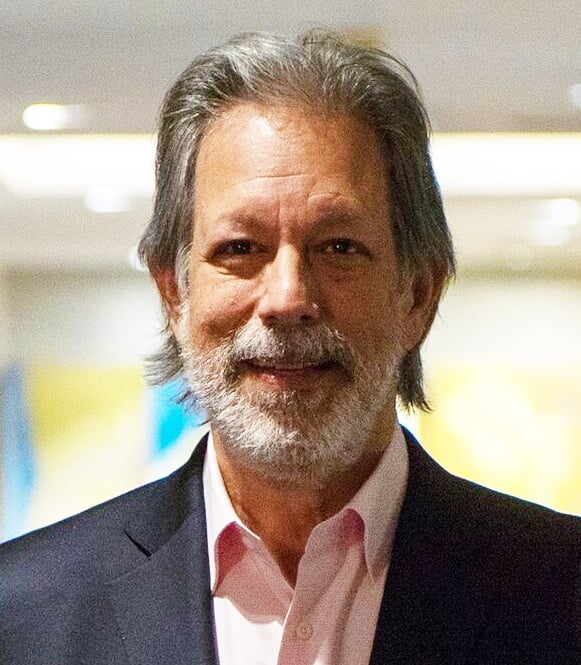 DN Conversations: Talking Courageous Leadership with Geoff Colvin: GM, Netflix, Disney & Microsoft
STOP PROTECTING THE PAST; CREATE THE FUTURE
Innovation, reinvention and transformation are the business survival skills of our time. In this edition of DN Conversations, I talk with GEOFF COLVIN of Fortune who gets to explore how top companies and business leaders are managing the daunting job of adapting to nonstop disruption coming from every direction.
It takes real courage to move significant capital and your best people into new efforts. It's a conscious decision to stop protecting the past and begin in earnest creating the future. We talk here about four leaders who are courageously confronting reality to keep competitive: Mary Barra (GM), Reed Hastings (Netflix), Satya Nadella (Microsoft), and Bob Iger (Disney).
Watch our Zoom conversation here (or read the transcript below) as Geoff unpacks the kind of valuable insights he delivers in his writing and speeches. Geoff's goal, as always, is to provide practical and usable information to help you navigate your business and leadership challenges more effectively.
Thanks for watching/reading.
THE DN CONVERSATION
USEFUL LINKS
THE TRANSCRIPT
Tony:
I'm happy to welcome to this edition of DN Conversations, Geoff Colvin, who is Senior Editor At Large at Fortune. Geoff, thanks for making time for being with us.
Geoff Colvin:
It is always a pleasure, Tony.
Tony:
When we talked about the possibility of doing this, you really were zeroing in on the survival skills of the 21st century, which you said were, "Reinvention and innovation and transformation." And those actually were three qualities that you focused on with the Fortune Business Person Of The Year, when you made a case for Satya Nadella being the choice from Microsoft, even though they were an established firm. It came as a surprise to a lot of people, but not to you. Tell me why.
Geoff Colvin:
That's exactly right. The transformation of Microsoft has been one of the all-time, great business transformations and it was a classic case. I mean Microsoft is not that old a company, but still, it's over 40 years old. And if you think of the situation Microsoft was in five years ago, the conventional view was it was fading. it was becoming obsolete. It had had its run and it was dominant and successful, but it had missed the transition to phones. It has missed out on search, the giant trends that were driving the info-tech industry and it just seemed to be fading.
Geoff Colvin:
And what Satya Nadella did was transform this tremendously successful company to make it relevant for today and that's hard. It's hard because it was still hugely profitable and the center of it all, the Windows Operating System, that was clearly yesterday, right? Hugely successful, generating huge profits. But the Windows Operating System is on desktop computers and laptop computers when the whole world is moving to phones and tablets.
Geoff Colvin:
It was still profitable, but it was fading and he had the courage, which is extremely rare, the courage to move significant capital out of yesterday and into tomorrow and tomorrow was clearly cloud computing. Microsoft was insignificant in cloud computing, when Satya Nadella got the job. He moved money out of the most profitable part of the business Windows and into tomorrow. The Azure as they call it, the cloud computing.
Geoff Colvin:
It took tremendous courage, but it worked and he did it with no drama. Most people don't know who he is in the general public. Ask him, "Who's the CEO of Microsoft?" They'd probably say, "Bill Gates." He hasn't had that job over a decade. Nobody knows Satya Nadella. he did dramatic stuff without drama and ask me.
Tony:
You're talking about courage too. That was in the World's Greatest Leaders for 2019, the piece that you did. The intro to that you talked a lot about courage being a common theme that separated anyone who was on that list from others or their contemporaries or cohorts.
Geoff Colvin:
Yeah. That is really true. When things are changing fast as they are now, and changing profoundly because everything is being disrupted by the multiple effects of technology and the digital revolution, the changes that need to be made are big changes and they're big bets into a new world that most companies are not very familiar with.
Geoff Colvin:
So it takes tremendous courage and it takes not just talking the right game. It takes making significant change in the business, which is always going to be slightly uncertain and a lot of leaders are just not comfortable doing that.


---
HAVE THE COURAGE TO CREATE TOMORROW
INVITE GEOFF COLVIN TO SPEAK AT YOUR NEXT EVENT

---
Tony:
Talking about significant change, look at the automotive industry and what's going on with the whole move to electric and how that's different. The commitment to that varies depending upon what company you're talking about, and you've got some interesting insights into Mary Barra from GM.
Geoff Colvin:
Yes. That's exactly right. Think about what's going on in the auto industry as you say. It's not one or two, three revolutions all taking place at the same time. From gasoline to electric power, from human-driven cars to self-driving cars and from car owning to ride hailing. Any one of those revolutions would be enormously difficult, all three are happening at once.
Geoff Colvin:
So they had GM, the biggest, oldest American car company has to transform from yesterday to tomorrow. And I mentioned that Nadella was great at moving significant capital from yesterday to tomorrow, which is so difficult.
Geoff Colvin:
The other thing a leader has to do is move the best people, the best human capital from yesterday to tomorrow, which is all also almost impossibly difficult because they normally have the best people protecting yesterday because that's where all the profits are. The profits aren't in tomorrow yet.
Geoff Colvin:
One thing that Mary Barra has done that's so significant, is she has moved the human capital, the best people from yesterday to tomorrow. The most dramatic example is Dan Ammann who was President of General Motors, the number two executive of the whole company and she moved him from that to this little startup they had bought in San Francisco called Cruise, which is their self-driving effort and put him in charge of that.
Geoff Colvin:
A little business that doesn't make any money, but that's clearly tomorrow, and they are doing amazing stuff and making huge bets. She's doing the moving capital stuff as well. But it's important to realize you can't just move the capital, you also have to move the best people, which is sometimes even more difficult but she has had the courage to do it.
Tony:
It's extraordinary. And we also talked just before we began our conversation, about two other examples and they're out of the same field, but boy, very, very different. You've got Netflix, which is the upstart and you've got Disney which is in the news because of their announcement of their new platform that they've created. And of course they're a lot older than Netflix and looking to leverage all their great, the catalog that they've got.
Tony:
Talk a little bit about Bob Iger, who's clearly captured everyone's imagination. He's number one with his book of the New York Times Bestseller List, so people are fascinated with the man and what he's been able to do. And then of course, Reed Hastings from Netflix.
Geoff Colvin:
Yeah. Bob Iger of course, has been this tremendously successful CEO of Disney for almost 15 years now, and he has also done a great job of moving the company from yesterday to tomorrow. The way he has done it is by, well a lot of ways but a big, highly noticeable, high-profile way he has done it is with acquisitions. He has made big acquisitions.
Geoff Colvin:
He bought the whole Marvel Studios and that whole group of superheroes that have been the foundation of tremendously successful films, including Avengers Endgame, which is now the highest grossing film of all time. He had also bought the whole Star Wars franchise and then he bought Pixar. That was the first one which has been the foundation for so many hugely successful animated films. And then most recently he bought the Fox Studio and that business, which was the most expensive by far.
Geoff Colvin:
Now what's so striking about this, is that he put huge amounts of money into these acquisitions and traditionally when companies buy really expensive, big acquisitions, frankly it's bad for the business. They typically overpay. They typically overestimate all of the advantages they'll get promoting the business. It's usually bad for the shareholders.
Geoff Colvin:
Iger has done it so skillfully that he has vastly outperformed the stock market, outperformed the S&P 500 and talk about moving from yesterday to tomorrow. He has launched the Disney+ streaming network, which has become phenomenally successful as near today. We just got the news that it is up to over 28 million subscribers having launched what, November, December, three months ago. This has never been done. So now who's, as you point out, in direct competition with Netflix.
Tony:
The power of content. I mean, I think the content is really what it's about. A lot of smart moves on his part for sure.
Geoff Colvin:
Yes.
Tony:
Reed Hastings. Netflix has its work cut out for them at this stage of the game.
Geoff Colvin:
They really do. Of course, we are now in the midst of the beginning of the streaming wars, so not only Disney has started a competing service but so has Apple. Amazon has had its own for a long time. AT&T having bought Warner is going to be starting it's very shortly in a matter of weeks, and NBC Universal is going to be starting its as well, and so tremendous amount of competition stacking up for Netflix.
Tony:
NBC also said that they are going to have an option to not pay for it, but you can get it for free if it's commercial based but that sounds an awful lot like television doesn't it?
Geoff Colvin:
Yes. It's an awful lot like television except that you can watch whatever you want whenever you want.
Tony:
It's on demand. Right. Exactly.
Geoff Colvin:
Exactly. But yeah, that is another model. And so Netflix is really up against it, but I have tremendous admiration for Reed Hastings based on what he has done. Because in his case, the move from yesterday to tomorrow was the move from his old DVD rental business, which some people have probably forgotten about or never knew of, but they used to rent DVDs and send them through the mail. He could see that was going to be yesterday, tomorrow was going to be streaming and he was in the business of streaming movies, but he saw that wouldn't be enough either. He was going to have to produce his own content.
Geoff Colvin:
Now, he had to get something really good that was going to be really expensive and it was a big, big gamble. So House Of Cards was the program he decided to produce. And they knew that if they wanted to get the A-list cast that they thought they needed and the top-tier director they thought they needed, the only way to get those people was to sign him up for a two year deal. And they didn't know if it would be a hit, but they had to sign them up for a two year deal, otherwise those people wouldn't do it.
Geoff Colvin:
They did it because they had something no one else had, which was all the data that they got from their DVD rental business and their streaming business. That their audience would like the story and the actors and the director that they had in mind. It was a big gamble. They made it and they won.
Tony:
Right. Fascinating. When you go out and speak to audiences, this is one of the topics that people are just eager to hear about because no one out there really has it all figured out. Everyone's looking to try and get better at understanding what the most successful companies are doing to transform themselves, to innovate and to go through some reinvention. When you look at the best advice you could give anyone who's leading a business today who's facing disruptive change, what are the, let's say, top two or three things that you can offer them that the smartest leaders and companies are doing now?
Geoff Colvin:
Yeah. A number of things. First of all, they are confronting the reality of the friction-free economy. If you look at all these things we've just talked about these past few minutes, we looked at the software industry, Microsoft, the auto industry of Mary Barra, making movies in theaters and running theme parks and everything with Disney, and then streaming with Reed Hastings. They would seem a hugely different group of industries, but in fact the reason every one of them is going through deeply significant transformation is the friction-free economy. The fact that the digital economy makes it possible to do things that you simply could not do before.
Geoff Colvin:
So I always advise, think through clearly and fearlessly what this might mean for you. Then innovate the business model. And it's like people know they're going to have to do it, but most companies don't have that as a core competency because business models used to last a long time. You could go through generations of management without anyone having to innovate the business model. You can't do it anymore. So they have to think about innovating the fundamental business model.
Geoff Colvin:
And then one other thing that I really focus on heavily is the value of the human capital, the increasing value of skills, of deep human interaction. And that seems to go against all the trend toward technology and STEM education and so forth. It doesn't at all.
Geoff Colvin:
The rise of technology is what makes these human skills now the most valuable skills in every business and that's not theory. I didn't make that up. It's what companies are telling us now. And most companies haven't really trained those skills, but they're trainable and companies need to do that too.
Tony:
Yeah. We're hearing more and more, a groundswell on the theme of bringing humanity back into business and for leaders to lead more humanely. It's making it more people-centric. It's he technology has been front and center since the Internet revolution in the late nineties and onward, but it's people are wary of it, people are weary of it. And the idea that they're reconnecting in terms of how they're working together, they're collaborating, their creativity together and all of that seems like it's time. Everything goes through cycles. It seems like it's time for this.
Geoff Colvin:
It clearly is and I've noticed the same thing you have. You see it everywhere now. I've been a beating this drum for quite a while now, and it's great to see that it is becoming a mainstream concern. Humanity, empathy, related issues all becoming now front and center, mainstream stuff and I'm glad that companies are focusing on it.




Tony:
I think it's healthy as well. Geoff, thank you. You do a wonderful job bringing this message off to audiences everywhere. We are just proud as ever to have you among the people that we manage and work with, and I treasure our relationship. Thank you for the great job that you do.
Geoff Colvin:
You're very kind, Tony. I love doing it and I thank you as well. It's been great. Thank you.
About Tony D'Amelio
Tony has spent his career putting talented people and audiences together, first in the music business and later representing the world's leading speakers. After concluding 27 years as Executive Vice President of the Washington Speakers Bureau, Tony launched D'Amelio Network, a boutique firm that manages the speaking activities of a select group of experts on business, management, politics and current events. Clients include: Mike Abrashoff, Vernice "FlyGirl" Armour, Geoff Colvin, Daryl Davis, Suneel Gupta, Ron Insana, Katty Kay, Polly LaBarre, Nicole Malachowski, Bill Walton, and Bob Woodward.